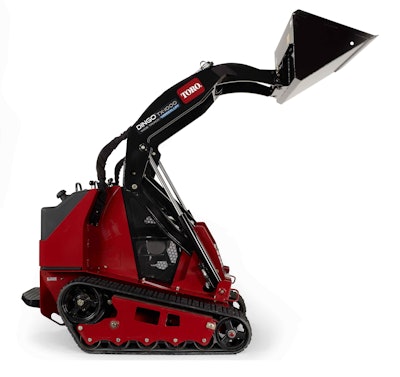 Say hello to Toro's new compact utility loader, the Dingo TX 1000. It features a rated operating capacity of more than 1,000 pounds. The narrow-track model weight-to-power ratio is 2,610 pounds, and the wide track is 2,790 pounds.
The loader's engine puts out 24 gross horsepower at 2,600 rpm with its Kubota 1305 liquid-cooled diesel engine. It travels up to 4.7 mph and has dual fuel tanks.
The hinge pin can reach 81 inches from the ground when vertical lift loader arms are fully extended. The arms are designed for heavier loads and higher reach.
Other features:
Thigh and hip padding
Auxiliary foot control integrated into suspended platform
Belt-free design
Watch it in action in the video below: