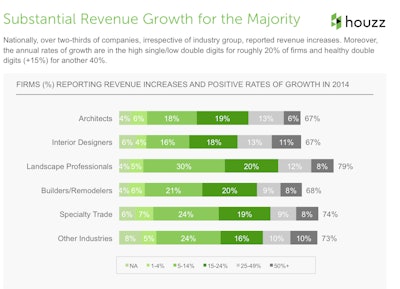 There's a new tool for professionals using Houzz. It's the Barometer, which will be released quarterly and tracks home renovation market confidence.
"Barometer findings are consistent with other leading industry research and economic indicators of growth and confidence for the home improvement industry as baby boomers and growing families continue to invest in their homes," says Houzz principal economist, Nino Sitchinava.
Optimism about an industry rebound is high (index value 74-75). Eighty percent of landscapers and other specialty firms said revenue growth was due to the number of new projects. More than 70 percent reported an increase in the projects' scale.
Smaller landscaping firms without payroll are recovering in the economy, higher than those with five or more employees. Survey participants are concerned about the economic and political climate in the U.S. and around the world. They also are concerned about budget-conscious homeowners and finding qualified labor and subcontractors.
Check out the full study for details.