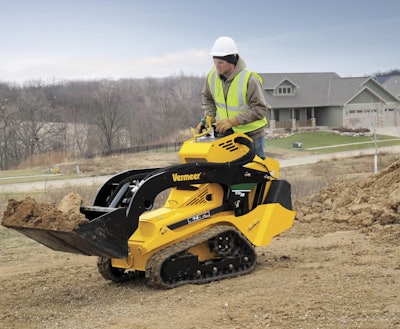 Vermeer has designed a mini skid steer, the CTX50, particularly for landscaping renters. The vertical lift arms allow for a lift height of 72 inches. The CTX50 has a 600-pound ISO-rated operating capacity and a 1,715-pound tipping capacity.
The Kohler Command Pro electronic fuel-injected gasoline engine generates 25 horsepower and has a four-pump hydraulic system. Two pumps power the track-drive motors, and the other two provide flow to the control loader arms and auxiliary hydraulic functions.
The stand-up platform operator station has one pilot-operated joystick. The CTX50 has 7-inch rubber tracks, and a high-mounted track sprocket design keeps the drive sprocket out of the dirt. There's also a universal attachment plate.
The CTX50 is available through the Vermeer dealer network except where CE certification is required.