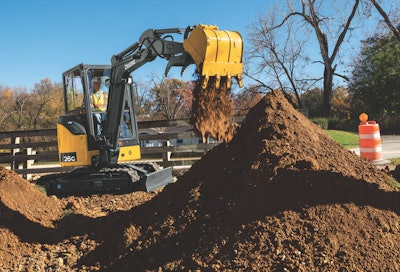 In a continuation of the G-Series upgrades that started in 2013, John Deere has released the 26G and 17G compact excavators, showing off the 26G at The Rental Show this week. Deere will start production of new units in March.
While directed toward the rental market, the straightforward machine, which is the second smallest compact excavator model in the Deere lineup, offers advantages for all users, says Derek Betcher, manager, dealer rental business with Deere.
The Tier 4 Final Yanmar engine offers 20 horsepower at 2,500 rpms and requires no additional emissions after treatment, which means no diesel particulate filter, no diesel oxidation catalyst and no need for diesel emission fluid. "That reduces the cost and complexity to the customer," Betcher say, "but to do that, we had to decrease the horsepower from 26 to 20 horsepower, while still maintaining the performance, so it has the same breakout force, and slightly more lift."
Deere lowered the weight of the machine by 600 pounds, to 2.6 metric tons, down from the D-Series 2.7 metric tons.
So where did those 600 pounds go? "There were options available on 27D that are not available on the 26G, including a long arm and steel tracks," Betcher explains. "By not exposing the machine to the stresses of either of these options, we could do a few trims to some of the weldments, particularly on the track, and we put the machine weight lower and further back."
Compared with the D-Series machine it's replacing, the 26G offers 40 percent more glass in cab units by using the same size cab as the larger Deere 35G unit. "The door is 4 inches wider than on the D-Series," says Betcher, making it easier to get in and out of the cab. "There's also 2 ½ more inches for your feet. Additionally the front window on enclosed cab units is now 2 inches wider and 6 inches taller." The simplified monitor shows two metrics: hours and fuel, a request by rental buyers, who make up at least 40 percent of the buying market for compact excavators, according to Betcher.
A third new service door gives easy access to the side-by-side cooler cores, coolant overflow reservoir and battery. As with all G-Series excavators, the 26G and 17G have extended fluid and lubrication intervals and oil-impregnated boom, arm and bucket bushings.
Standard features include backfill blade, pattern changer, auxiliary hydraulics and mechanical wedge-style quick coupler. "Throughout the entire series, you have extremely smooth, predictable hydraulic controls," Betcher says. "That helps operators of all skill levels."
Editor's Note: Marcia Gruver Doyle is editorial director of the Construction Division of Randall-Reilly