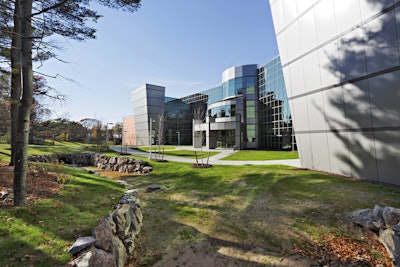 Selden, NY's Suffolk County Community College (SCCC) opened the new, $29.8-million William J. Lindsay Life Sciences Building this semester.
The college worked with BBS Architects, Landscape Architects and Engineers, J. Petrocelli Contracting and Greenman-Pedersen and is working towards LEED Gold certification to fit with the school's purpose: to hold 5,000 students studying multiple programs, including chemistry and environmental sciences.
The building features sustainable elements including gardens, plus native grasses and trees and drought-resistant vegetation. It has a dual purpose: for aesthetics and also as teaching areas.
This is the first new structure in almost 50 years. The 63,000-square foot building got the go-ahead because of a growth in students wanting to study life sciences. The older building served about 4,700 students.