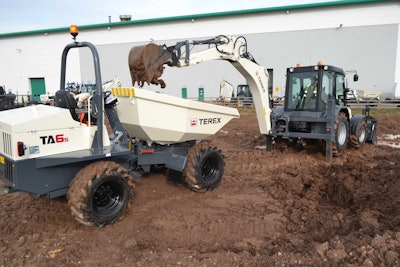 Terex's new Tier 4 Final 6-ton site dumpers — the TA6 and the TA6s — have 295 pounds per foot of torque and have 74-horsepower JCB EcoMAX turbo charged diesel engines with hydrostatic transmission.
Payload capacity is 13,229 pounds and they can travel up to 16.3 mph with four-wheel drive. There's no gear stick or shift pedal for operators to learn.
The main difference between the two models is the dumper. The TA6 has a forward-tip discharge site dumper, and the TA6s has a swivel-tip site dumper, so the operator can tip 90 degrees.
The steel dumpers have oil-immersed disc brakes on both axles, a folding ROPS and has 15.2 inches of ground clearance and 25 percent gradeability. The TA6 is 14.5 feet in length, 7.5 feet in width and has a 19.2-foot turning radius. The TA6s is 14.9 feet in length, 7.2 feet in width and an 18.8-foot turning radius.
Other features include an LCD dashboard with hour meter, coolant temp gauge and fuel level and early warning alerts for water-in-fuel and air blockage. There's also engine control unit technology to monitor the performance of the machine.