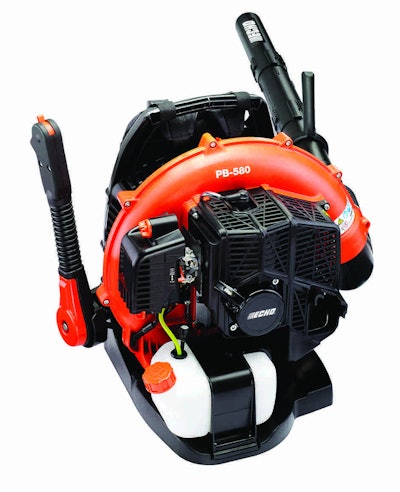 The PB-580 is ECHO's newest backpack blower. It has a 58.2 cc two-stroke engine with 510 CFM air volume and 215 miles per hour air speed.
It weighs 22.6 pounds with tube throttle configuration or 22.9 pounds with hip throttle. The ECHO PB-580 has a padded backrest, full back support with adjustable shoulder straps and a vented back pad for air circulation.
Other operator support features include a four-point vibration reduction system and a new grip for the tube-mounted throttle. The noise is 70 dBa per ANSI B175.2 standards.
The blower's metal wear ring, pipe connections and leaf guard is designed to extend the life of the blower, tubes and engine.