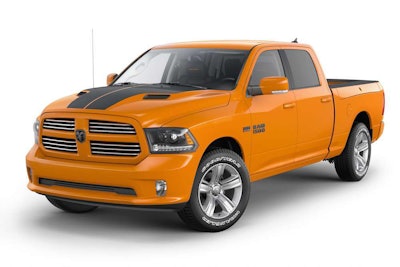 Ram has taken the wraps off a couple of new pickups that won't be around for very long.
These new 2015 Ram 1500 Sport models will be limited to a production run of 1,000 each and come in two shades: Ignition Orange and all-black.
Ram says the black model is very similar to the 1500 Black Express it released in 2013: black 20-inch wheels, grille and exterior with black leather inside. Ram says even the chrome on this truck has a "light black" shade.
The Ignition Orange model on the other hand features a brand new shade with a body-color grille and black racing stripe. The truck also features chrome 20-inch wheels with body-color accents throughout the cab.
Both trucks come standard with a 395-horsepower Hemi V8 paired with an 8-speed TorqueFlite transmission with 3.92 gear set. The trucks also feature vented sport hoods, dual exhaust and are available in Crew Cab 4×2 and 4×4.
The trucks start at $42,215. Ram is taking orders now and production will start in April.
Editor's Note: Wayne Grayson is the online editor for sister magazine Equipment World