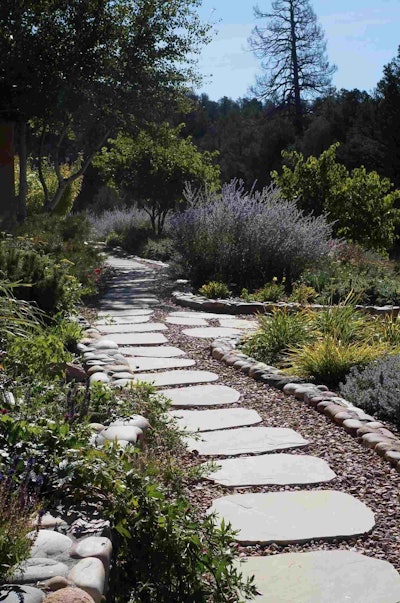 Even though it's National Lawn Care Month, in some areas such as the Southwestern United States, the idea of the wide expanse of lush green lawn is rapidly disappearing. Replaced with xeriscaping and thoughtful placement of native plants by water conscious landscapers, the traditional lawn is changing.
Realistically, there's no reason a similar tactic couldn't work in other areas of the country. Homeowners install water efficient appliances and faucets; suggesting to them they take their water saving practices outdoors is a natural step. Here are some suggestions for talking to your clients:
Educate them
Don't assume your clients know how much water traditional landscaping uses. According to the EPA, more than 30 percent of the estimated 29 billion gallons of water used daily by U.S. households is for outdoor use. Tell them they're using approximately 58,000 gallons of water outdoors each year, and they may be interested in cutting back.
Introduce them to native plants
Over the years, American homeowners have developed a pattern of associating native plants with weeds, and removing them in order to replace them with nursery plants that may not always be suited to their soil, or even their zone.
Look at the plants the client has been drawn to in the past, and use the information to suggest better options that will still offer visual appeal. Since native plants require little water beyond normal rainfall, it should be an easy sell to the water-conscious consumer. Native plants are also attractive to birds and other wildlife, and reduce the need for pesticides and chemicals, which should be a plus for your customer.
Convince them to shrink the lawn
While your client will probably want some lawn, carefully select the areas to plant turf. While you can certainly create hydrozones of plants that will boost water conservation, avoiding small patches of grass that require frequent watering is also a good idea. Whatever size lawn your customer decides on, having an uninterrupted expanse of turf will allow you to better plan your irrigation.
Show the customer how you can reduce the size of their water-sucking lawn by adding beds containing plants that use low water and incorporating paths, walkways, pavers and other hardscaping that will provide visual interest. Let them know the upside will be lower water bills, decreased energy use, fewer yard trimmings and possibly even reduced heating and cooling costs through the proper placement of shade trees.
---
Remember, starting a conversation is just the beginning. Opening a dialogue will allow your clients to explore design ideas they may have never considered, and they might be surprised to find the result is not only a unique, individual outdoor living space, but also one they love.