If Apple had designed a toolbox, the Coolbox would be it.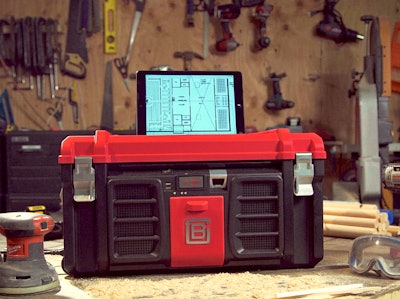 For starters it has: two USB ports to charge your phone or other devices; 40-watt Bluetooth speakers to play your favorite work tunes; a retractable 12-foot extension cord and a three-way splitter so you can plug in additional tools; a 20 volt internal lithium ion battery to charge devices or power small tools, and a tablet stand.
Additionally, tip up the lid and you'll find the underside is a dry erase whiteboard perfect for sketches and drawings on the fly. Plus, the top of the Coolbox is magnetic, so you can place screws, nuts and bolts on top of it without worry that they'll fall off and get lost.
Built-in external lights can help you see your way through the dark and interior lights help you find tools in the storage compartments. Dual side handles make it possible for two people to lug the Coobox around when it's heavily loaded and it has wheels for solo transport.
The coolbox measures 12.5-inches wide, 22-inches long and 9-inches deep and offers about 1,800 cubic inches of storage capacity. It will hold 65 pounds of tools or cargo. The makers of the box have reached their funding goal on crowdfunding site IndieGoGo and right now you can pre-order one for $179, substantially cheaper than the box's $299 retail price when it goes on sale.
You can get a feel for the Coolbox in the video below. Below it is a second video showing how many tools you can cram inside.
[youtube 9k-S79o3e8M nolink]
[youtube 0HLU7r4bkEw nolink]
Tom Jackson is the Executive Editor of sister magazine Equipment World.