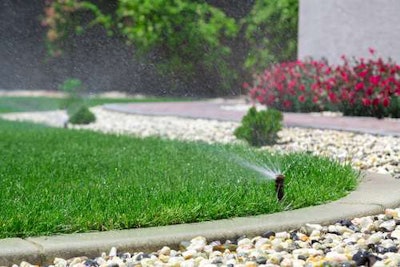 As the reality – and implications – of California Gov. Jerry Brown's call for a 25 percent statewide water use reduction, landscapers are watching to see how the issue unfolds in the drought-stricken state and across the country. The nation-wide coverage of the water use restrictions shows Americans' increased awareness of water conservation.
Less than a week after the governor's statements, the City Council of American Canyon, California, located 35 miles northeast of San Francisco in Napa County, adopted a new ordinance banning front lawns on new homes. The Water Efficient Landscaping Ordinance requires all new developments to use drought resistant plants in the front of homes instead of grass or natural turf.
According to Community Development Director Brent Cooper, the zero-front-lawn approach is something few, if any, California local governments have embraced.
The City Council of Suisun City, California, is considering changes to its current front yard landscaping policies, which allows homeowners to pave over 60 percent of their yards if the area is uses as a surface for parking cars or other vehicles.
The issue came before the council when it received a complaint about a neighbor who replaced his front lawn with rocks. Due to water use restrictions, other homeowners may follow suit. Residents are not required to obtain a permit to replace their yard's grass with something else, and a policy specifying what landscape changes are allowed does not exist.
In direct conflict with the governor's water use restrictions, many local governments have code restrictions against brown lawns. Assemblywoman Cheryl Brown, D-San Bernardino, is sponsoring legislation that would prevent fining property owners who try to save water by letting their lawns wither.
The State Water Board requires urban water suppliers to limit the number of days per week customers can water outside, and state rules forbid lawn watering 48 hours after measurable precipitation.
"California is in the fourth year of the worst drought in our state's history, and it is completely counter-intuitive to penalize people who are trying to conserve water," Brown told the Press Enterprise.