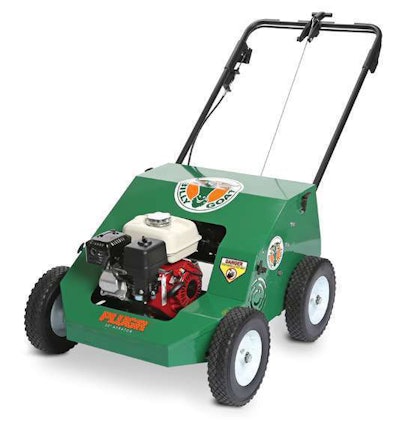 Following Billy Goat Industries' acquisition of Plugr last fall, and the launch of the One & Done Hydro Aerator, the company is offering demonstrations of the line's reciprocating technology to landscapers and contractors.
The company says its reciprocating aerators include features such as in-ground turning to reduce operator fatigue; fewer tines than traditional drum aerators, ensuring easy service; variable aeration density that delivers between two and 10 times more holes per pass, to simplify patch and repair work; and deep plugs in less-than-ideal soil conditions.
The cam-drive reciprocating Plugr commercial models include the PL2500H 25-inch mechanical drive, which delivers up to 42,550 square feet per hour and is suitable for large property aerations with flatter landscapes. The PL2500SPH is a 25-inch hydro drive self-propelled model, which delivers up to 35,000 square feet per hour and works well on large hilly properties. Both units feature variable speed, providing for a dense hole pattern at slower speeds when needed.
Billy Goat's One & Done 30-inch hydrostatic reciprocating aerator features a 4.3-mph speed, and completes quarter-acre aerations in as little as 15 minutes. The One & Done has Variable Aeration Density creates up to 10 times more holes than drum models in a single pass, according to the company. Flextech arms provide flexible limb reciprocating action, driving plug depths up to two times as deep as drums in even dry soil. In-ground steering and hydro drive controls enable feathering the speed in forward and reverse.
To schedule a demo, call (800) 776-7690.