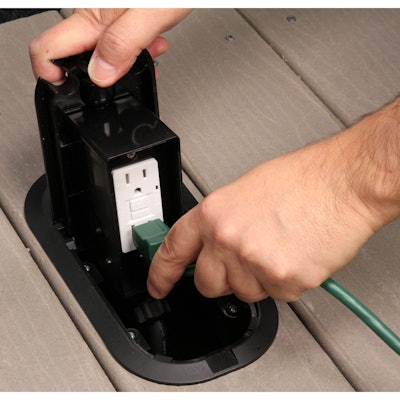 Powering small items on raised decks can now be done safely and conveniently with the new Red-Dot Deck Grommet PRO from Thomas and Betts, which features a receptacle that remains concealed beneath the deck board, eliminating the draping of power cords along the deck surface. The Deck Grommet PRO also eliminates the safety hazard of cords plugged into outdoor post or wall-mounted outlets and protects power receptacles against harsh weather, including ice formation.
When not in use, the receptacle remains concealed beneath the deck board, with only a non-metallic cover visible.
The Deck Grommet PRO complies with National Electrical Code (NEC) requirements for installing receptacles in wet locations. Thomas and Betts says it's the first device to pass the NEC testing requirements specifically developed for receptacles installed in a raised deck for "While-In-Use" application. It is also compliant with Underwriters Laboratories in Canada and the United States and carries NEMA 3R enclosure ratings.
The Deck Grommet PRO is hardwired to add power outlet service to any part of a raised deck, providing access for small appliances, lighting and water-feature pumps in outdoor residential or commercial use.