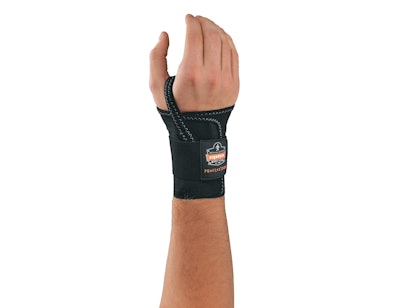 Ergodyne's ProFlex line of wrist supports, wraps and sleeves are undergoing a refresh the company says will improve performance, comfort and breathability. Designed to aid workers with minor sprains, strains or exposure to repetitive motion, the ProFlex line will provide relief from discomfort and provide supplemental support to allow continued work, says Ergodyne's Andy Olson. "Sprains and strains continue to be the number one workplace injury in the United States each year."
Changes to the product line include pull-tabs on the end of all straps to provide easier grip and ensure easy on/off, perforated neoprene on the sleeves to enhance breathability, spandex mesh behind the knee and elbow, new binding for improved fit, an indicator line for palm placement, larger thumb loops and lower-profile buckles.
Five wrist supports, two wrist wraps, three knee sleeves and three elbow support and sleeves were updated. The products are available now from Ergodyne distributors.