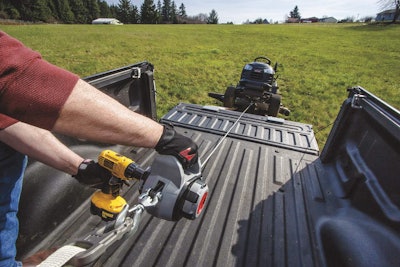 Warn Industries says its new Drill Winch represents a genuine breakthrough in portable winch design. Anywhere you can take your portable drill, you can take the Drill Winch, the manufacturer says, describing the new product as ideal for moving rolling loads onto pickups or trailers.
The lightweight product has a 500-pound pulling capacity. Warn Industries says the new winch runs off any standard portable drill.
While the product doesn't come with a drill, its front and rear rigging hooks are coupled with a free spool clutch to make rigging fast and easy. The Drill Winch also includes 30 feet of wire rope and an integrated hawse fairlead.
For more details on the Drill Winch, or any Warn products, visit the company website at www.warn.com.