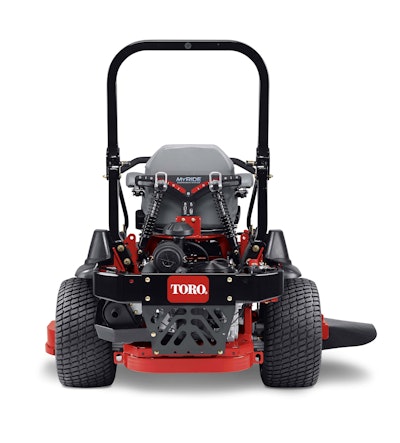 Toro has introduced a new suspension system for some of its Z Master zero-turn mowers. Called "MyRide," the system features a fully suspended operator platform that delivers 3.6 inches of travel and isolates the operator from the rest of the machine. Toro says the design reduces impacts, bumps and vibrations for a more comfortable ride.
The MyRIDE suspension system also features adjustable rear shocks, which allows each operator to choose his or her own personalized comfort setting. Making those adjustments is quick and easy, according to Toro, offering a wide range of ride preferences from soft to firm. The company says its new suspension system involves no compromise of the Z Master mowers' performance and durability.
The system is available on the following models in the Z Master line: 3000 Series with 60-inch deck, 5000 Series with 60-inch deck, 6000 Series with both 60- and 72-inch cutting decks.
"Our goal was to combine Toro's legendary toughness with an industry-leading ride experience," says Chris Hannan, marketing manager for Toro. "The response from those who have tested this product in the field has been overwhelmingly positive."