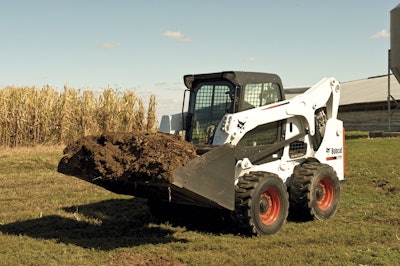 Bobcat's newest 700 frame-size skid steer, the 74-horsepower S740, is also the company's first Tier 4-compliant model in that size class. The S740 doesn't require a diesel particulate filter, selective catalytic reduction or diesel exhaust fluid.
The non-DPF solution was achieved through the use of a diesel oxidation catalyst that reacts with engine exhaust upon contact, transforming combustion byproducts into water and carbon dioxide. An ultra-low particulate combustion engine has a specially designed engine combustion chamber that reduces the amounts of particulate matter created during combustion, eliminating the need for a DPF.
Designed for applications that include landscaping, construction and buildings and grounds, the 8,730-pound S740 features a vertical lift path, 132-inch lift height to hinge pin and a 3,100-pound rated operating capacity. As part of the M-Series line, which includes 11 other skid steer models, the S740's 23-gpm hydraulic system delivers high standard flow and pressure for increased attachment performance. An optional high-flow option is available that delivers 30 gpm.
Cab features
The S740 has the cab-forward design included on all M-Series skid steers, allowing the operator closer to the attachment, and delivering excellent visibility in all directions. A large cab door opening that provides a view of the attachment, especially the cutting edge and corners of a bucket, also boosts visibility. Additionally, the windows are larger compared with older machines, which provides improved views of the tires and the back of the machine.
To boost comfort, Bobcat has pressurized the cab with a one-piece seal that goes all the way around the door and fits into a specially designed curved pocket, minimizing dust and dirt that enters the cab.
Operators can choose between standard foot pedal hydraulic controls, the Advanced Control System or the Selectable Joystick Controls.
Simplified maintenance
The S740's design ensures quick and easy maintenance. The auxiliary quick couplers are mounted directly to the front plate of the lift arm for a solid mounting, and the hoses are routed through the loader arms for protection.
The skid steer also has a redesigned cooling system, which increases efficiency, boosts machine performance and simplifies cleaning, while prolonging the service life of the machine.