Western Products, manufacturer of Western snow and ice-control equipment, released a limited edition red, white and blue lift-arm kit during the recent Independence Day holiday. The special lift-arm kit is compatible with all Western UltraMount and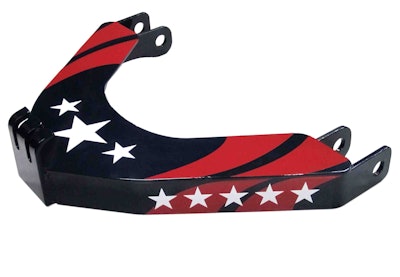 UltraMount 2 series snowplows.
For each kit sold, the company will donate $50 to Camp Hometown Heroes, a weeklong overnight camp that provides traditional summer activities such as swimming, arts and crafts, fishing and canoeing to children of U.S. service members who have lost their lives. The children are also given access to pediatric grief specialists, music therapy programs and optional discussion groups. Last year, donations helped more than 100 children attend the camp at no cost to their families.
"This summer, we not only celebrate independence by helping customers display their patriotism on their work trucks, but by remembering those heroes who paid freedom's price with their lives," said Patrick Dietz, vice president of marketing for Western Products' parent company, Douglas Dynamics. "We're pleased to help Camp Hometown Heroes fulfill their mission of healing hearts and restoring hope among the children of these brave U.S. military service members."
To learn more about the Western patriotic lift arm kit, visit www.westernplows.com or locate your nearest Western snow plow dealer.