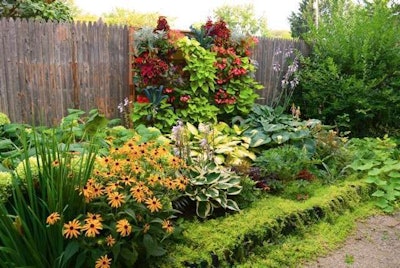 Popular in Europe for decades, vertical gardening is a technique that's trending in the United States. Also called living, or "green" walls, vertical gardening refers to plant material growing in a wall-mounted planter system, rather than in-ground.
"Instead of just growing ivy up a trellis, you can create a mosaic on the wall unlike anything you'd do in the ground," says Trevor Smith, lead designer for Land Escapes Design in Arlington, Massachusetts. "It's a concept that's still evolving."
One of the benefits of vertical gardening is the creation of growing space in small backyards, urban courtyards and commercial properties such as restaurants.
"Living walls allow you to maximize what you have," says Shawna Coronado, green lifestyle expert and author of Grow a Living Wall: Create Vertical Gardens with Purpose. "You can screen a view or take a wall from boring to spectacular. You can grow edibles, aromatics and plants that attract pollinators."
Vertical gardens are a niche offering but can be a viable addition to your list of services. The profit margin ranges from 20 to 40 percent, depending on the plants used and the complexity of the design. Here's what you should know:
There's a learning curve
It's not just about plopping pots into a wall system. For example, plants on the side of a building may cook if you don't adapt to conditions.
"I killed a lot of plants in the beginning," says Smith. "But that's part of the challenge of learning what works. Everything about a living wall is site-specific, including the amount of shade, sun or wind exposure. You have to pay attention to the environment."
While living walls thrive in warm climates, they're feasible in cold regions, too. But plan for winter dieback.
"Many hardy perennials such as sedum and grasses go dormant and come back, but you're always going to have holes come spring," says Smith. "The issue is that a living wall has to be perfect. If one spot is dead, that's all the client sees." Factor in at least 15 to 20 percent dieback, and don't be surprised if you're replanting sections of the garden periodically.
Not every plant is ideal
At the Atlanta Botanical Garden, which installed an edible garden about five years ago, an eight-foot-high living wall was planted with culinary herbs for use by the chefs in the outdoor kitchen.
"We have since interplanted perennials such as dianthus as we've learned more about what works in our space," says Moe Hemmings, senior horticulturist at the garden. "It turns out we had too much shade for many herbs. It's still about choosing the right plant for the right place."
Over time, you can build a plant list. Typically, hardy perennial herbs such as oregano, sage and mint thrive. Edibles such as lettuce, strawberries and Swiss chard are options for colder climates. Tropicals such as ferns are viable in warm climates. Succulents are striking, but they may require additional techniques, such as planting through hardware cloth because they don't have a deep root system to hold themselves in place.
Not all modular systems are created equal
Although you can build your own planters with basic carpentry skills, it may be less time consuming to research the various modular systems available. Most systems consist of plastic planting boxes or grids mounted to a bracket system that's attached to the wall or fence. Plants eventually hide the boxes. Other systems use fabric-like pockets attached directly to the wall; the fabric usually remains visible as plants grow.
Familiarize yourself with what's out there by attending trade shows, talking to manufacturers or contacting horticulturalists at botanical gardens that have living walls. Play with different systems and plant one in your own yard to get a feel for how they function.
"Develop a relationship with a supplier and ask them to work with you wholesale," suggests Coronado.
For large-scale applications, consult an engineer or architect.
"You have to understand the structural implications of putting that much weight on the side of a building," says Ron P. Schwenger, principal with Architek. "Make sure a company isn't just selling you a commodity. You need to rely on an expert for technical support."
You need irrigation
As plants mature, their root systems hold them in place in the planting medium. But in the meantime, if you don't determine the right watering schedule, gravity may cause plants to fall out of the wall as the soil dries and contracts, says Smith. While hand-watering with a wand is possible, it's labor-intensive and impractical for many applications.
Most modular systems include drip irrigation options that can be plumbed into an existing irrigation system. Typically, you'll establish multiple zones, grouping plants that have similar water needs together. At the Atlanta Botanical Garden, irrigation is divided into sections with the number of plug-ins per line varying depending on whether or not a zone is in shade or sun, says Hemmings. Regular fertilization is recommended via the irrigation system or as a foliar feed.
Maintenance is crucial
Many designers have learned it's best to require a maintenance contract to protect the plants, ensure quality control and provide an ongoing income stream.
"Vertical gardens have to be cared for like any landscape," says Georges Fortier, owner of Vertical Garden Solutions in the San Diego area. "Plants will die. Irrigation needs adjusting. It's a hands-on operation. You can damage your reputation quickly if you don't do this well."
Typically, maintenance visits are scheduled weekly as a garden is getting established, then bi-weekly or monthly. In some cases, more frequent maintenance may be necessary. One of Fortier's clients is a restaurant/ bar, which uses herbs such as basil and mint in specialty drinks.
"I learned I need to go two to three times a week to replenish their supply," says Fortier. "I've built my business understanding my clients' needs so they keep coming back with new projects. This is not a wholesale business. You're creating art."