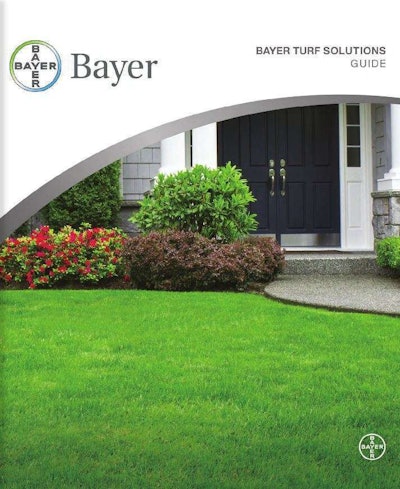 Landscape professionals have a new, free resource at their disposal, as Environmental Science, a division of Bayer CropScience, has released the "Bayer Turf Solutions Guide." The guide is specifically designed to answer the toughest problems affecting lawn-care professionals.
The publication provides concise information on the identification, biology and key cultural and chemical controls for the most common diseases, weeds and insects affecting warm- and cool-season, as well as transition zone, turfgrass.
"Tools like the Bayer Turf Solutions Guide are a critical part of the Bayer commitment to support the lawn and landscape industry and to continue to offer the best and most up-to-date turfgrass management strategies available," said Peter Farno, Bayer Lawn & Landscape business manager. "Lawn and landscape professionals face countless challenges on a daily basis. This guide was specifically designed with the intent to help mitigate those challenges."
Comprised of two sections, the Bayer Turf Solutions Guide offers in-depth pest solutions as well as product information sheets. The "In-Depth Solutions" section outlines the identification and biology of important diseases, weeds and insect pests, as well as key cultural and chemical controls within a recommended Bayer treatment program to help manage them.
The "Product Information Sheets" outline what disease pathogens, weeds and insects can be controlled and provide various tips to maximize performance of Bayer fungicides, herbicides and insecticides.
The Bayer Turf Solutions Guide is available in print as well as in a user-friendly e-binder, which can be accessed at the following address: www.backedbybayer.com/lawn-and-landscape-management/bayer-lawn-solutions-guide. Bayer reminds its customers to always read and follow label instructions.