Ford has emerged as the largest and fastest-growing manufacturer of commercial vans in the United States thanks to strong sales of its Transit vans in the first half of 2015, according to a Ford analysis of IHS new vehicle registrations through June.
Ford vans have been America's best-selling commercial vans for 36 years, but with Transit, its versatility is key. Landscape contractors and other businesses can choose from 58 vehicle configurations. And with the introduction of a dual sliding door option on the 2016 Transit van, the vehicle with the most configurations in its class just got even more flexible.
"Transit customers appreciate the van's flexibility because it can enable them to right-size their vehicle to the needs of their vocation," says Yaro Hetman, Ford brand manager for Transit, Transit Connect and E-Series. "There are 12 ship-through upfitters located within 30 miles of Kansas City Assembly Plant, making it easy and fast for customers to design their Transit vans to serve their business requirements."
Transit sales success has led Ford to capture 56 percent of the U.S. commercial van market as of June 2015, up from 48 percent in June 2014, according to IHS new commercial vehicle registration data.
Commercial van sales are increasing as the U.S. economy grows. Ford vans drove 80 percent of the segment's growth in the first half of the year, according to Ford analysis of IHS data. Ford commercial van sales increased 28 percent from January through June, while the segment overall grew 11 percent in that period.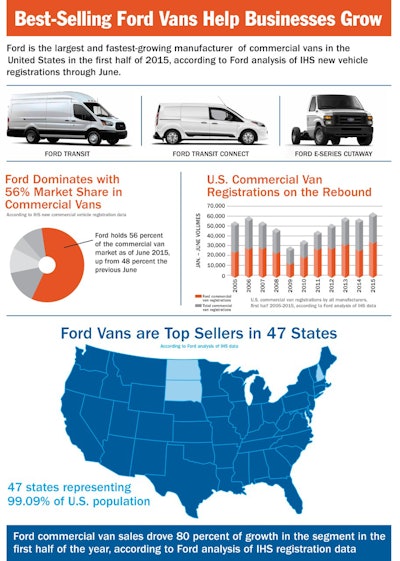 Ford vans are top-sellers in 47 states and those states are home to more than 99 percent of the U.S. population.
Ford Transit became the best-selling full-size van in America just six months after it went on sale, replacing America's best-selling van for 35 years, the E-Series, which was first sold in 1961 as Ford Econoline. For the 2015 model year, Ford produced more than 100,000 Transit vans, wagons, cutaways and chassis cabs at Kansas City Assembly Plant.
Ford Transit Connect, America's small commercial van pioneer, has been on sale since 2009 and has reigned as the country's best-seller in the segment for the past five years. Transit Connect leads the small commercial van segment with a 69-percent share and is on pace to have another record year, with commercial sales up 43 percent in the first half of 2015.