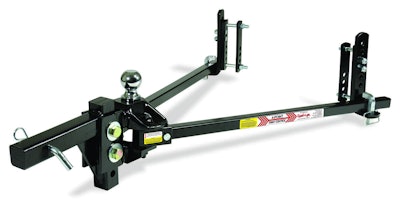 Towing a trailer can be touch and go if you don't understand how the added weight and length can cause a dangerous situation, both for you and others on the road, according to Equal-i-zer, a division of Progress Manufacturing.
Progress Manufacturing is a Utah company that makes sway-control hitches, high-end aluminum ball mounts and trailer hitch accessories.
"The leading causes of trailer sway are side wind, passing semi-trucks, driving too fast, emergency stops, improper trailer loading, incorrect hitch setup, undersized tow vehicles, or a blowout, which can cause accidents," said Kim Dewsnup, an account representative with Equal-i-zer.
Steps to prevent sway include: ensuring tire pressure is correct, driving a reasonable speed, leaving plenty of stopping distance, arranging trailer cargo so the center of gravity is just ahead of the axle, making sure the tow vehicle is rated to handle the trailer weight and the brake controller is set up properly, and using a four-point integrated sway control hitch.
Also, be sure to load the trailer correctly. Heaviest items should go centered, side to side, and the tongue weight should be between 10 percent and 15 percent of the total trailer weight. This gives the trailer the most stability, without overloading the hitch, according to Equal-i-zer.
If you are towing a heavy trailer, always use a sway-control hitch. Regular hitches and ball mounts do not prevent sway.
Sway-control hitches have two different weight ratings. Pay attention to the maximum trailer weight and maximum tongue weight. Never exceed either rating. The best way to avoid this is to actually weigh the loaded trailer and size the hitch accordingly.
Equal-i-zer advises that you follow the instructions in your hitch owner's manual for proper setup. Remember, when a trailer is coupled to a tow vehicle, the added weight causes the vehicle to teeter-totter over the rear axle. The front of the tow vehicle rises and the rear sinks. This causes a dangerous towing situation, because less weight on the front axle results in a loss of steering and braking control.
Proper set up of your weight distribution hitch changes the way the tow vehicle and trailer couple together. It creates a bridge between the trailer and vehicle, helping them work together like one unit instead of two, distributing weight more evenly to the axles of both vehicles.