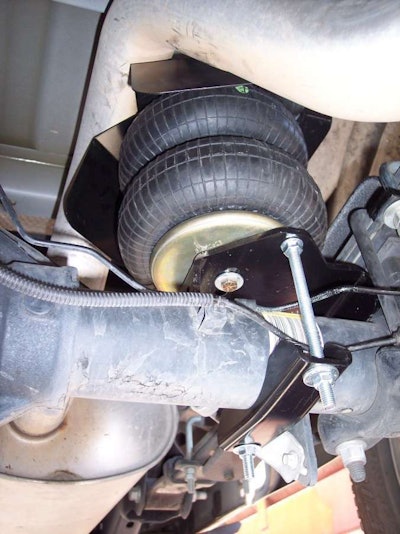 Hellwig Products has a new line of HD Air Suspension kits designed specifically for light trucks used for heavy tow/haul applications.
Designed for ride comfort while loaded and unloaded, these suspension kits are designed for a factory height vehicle, but Hellwig has spacer kits to allow these bags to fit lifted vehicles. Use a P/N 4828 for a 2" rear lift or use P/N 4830 for a 4" rear lift.
Installing an air bag system on a truck allows the customer to increase or decrease air pressure in the bags, changing the vehicle's spring rate, the company says. This lets them adjust to the specific rate they need for their load but then they can air down the bags when unloaded for a factory ride.
Leveling the truck with air suspension improves handling, tire wear, braking performance, safety, aesthetics and much more.
These kits use our 2600lb air bags which are larger than other leading brands and give a total rating of 5200lbs. The increased size means it requires less air pressure to level a load, leading to a more comfortable ride.
The Hellwig HD air suspension kits bolt onto the vehicle with no welding required and include all the components needed for the install.
Each kit comes with air line and Schrader valves to be filled from an external compressor but can be upgraded with one of Hellwig's compressor kit options. All the brackets are made from heavy duty steel and are powder coated for a weatherproof finish.