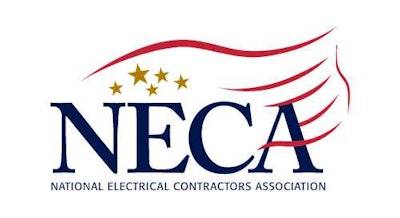 The National Electrical Contractors Association (NECA) will play host Dec. 9 to a 90-minute webinar on significant changes in the National Electrical Code. The online session is set for 11 a.m. EST.
Every three years, the National Electrical Code is updated to reflect the newest installation practices in the industry. Normally, hundreds of changes are made to the code. In the webinar, NECA member-contractors and industry professionals will review the most recent changes.
The cost to register is $29.95 for NECA members and $49.95 for non-members.
"This event is a must-attend for those seeking a high-level review of NEC revisions that apply directly to their current business operations, especially if working in jurisdictions that have adopted the 2014 NEC," said Michael Johnston, NECA executive director of standards and safety. "This webinar is a high-energy program that promises to deliver authoritative overviews of many of the code changes that must be understood by contractors and installers alike."
NECA says those participating in the webinar will gain valuable information related to new NEC articles, expanded AFCI and GFCI rules, and additional changes associated with evolving technologies. To register, click here.