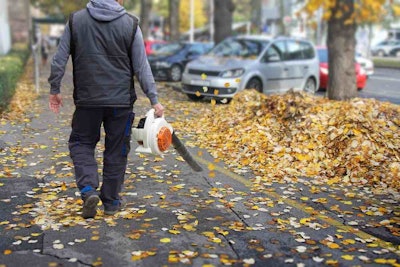 Leaf blower battles are nothing new to landscapers, but the city council of Washington, D.C., is considering a regulation far more severe than merely limiting the time of operation.
D.C. council member Mary Cheh has introduced the "Leaf Blower Regulation Amendment Act of 2016," which would ban the sale and use of gas-powered leaf blowers in the District of Columbia by 2022. If the regulation passes, those who break it would be charged a maximum of $500.
While 2022 may seem far off, passage of the ordinance in the nation's capital could send ripples through other major cities where local politicians receive an earful about gasoline-powered blowers' noise and emissions.
Washington's current ordinance states that leaf blowers cannot exceed 70 decibels from 50 feet away. District residents who are particularly irked by the noise complain that the existing regulation is not being enforced.
Aside from the noise, Washington residents also cite public health issues, noting that gas blowers emit carbon monoxide and nitrous oxide.
"You find two-stroke engines in poor countries because they're cheap," James Fallows, a correspondent for The Atlantic, wrote in his blog series urging the banning of two-stroke blowers. "You don't find them in richer countries because they're so dirty and polluting."
However, the inexpensive efficiency of gasoline-powered blowers is the reason why some – including many landscape contractors – don't want to get rid of them. According to The Washington Post, Conrad DeWitte was the only Advisory Neighborhood Commission representative who opposed the ban's being enacted.
"I think the utility of these modern conveniences outweighs any annoyance from noise produced during the occasional use of these machines," he wrote in an email.
Those against noisy blowers see electric blowers as the obvious solution. Fallows describes an electric blower as close to "the Holy Grail of equipment that is both 1) powerful and 2) quiet."