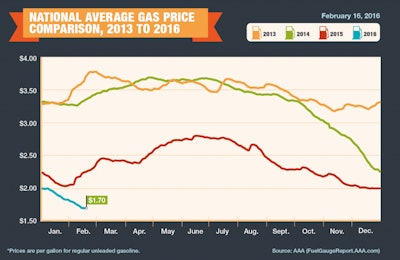 While the U.S. average price of gasoline rose slightly this week, the Energy Information Administration (EIA) reports that diesel prices fell below $2 a gallon in its weekly survey for the first time since 2005.
"The U.S. average retail diesel price had last approached, but not gone below, the $2 mark in early 2009," the agency states in a news release on its latest fuel survey. The last time the price was less than $2 a gallon was Feb. 14, 2005.
EIA, an arm of the U.S. Department of Energy, said the drop in diesel prices reflects both decreasing crude oil prices and increasing inventories of crude oil and refined products worldwide.
The agency notes, too, that diesel prices tend to vary less by region than gasoline prices.
Gasoline edges up
Retail gasoline prices in the United States have fallen 42 out of 47 days this year, according to AAA, for a total savings thus far in 2016 of 30 cents per gallon.
On Tuesday, the average price for regular unleaded was $1.70 a gallon – 55 cents per gallon lower than this time last year.
AAA says U.S. refineries typically lower production at this time of year as they prepare for seasonal maintenance before the busy summer driving season.
While pump prices are likely to begin rising slowly as summer approaches, AAA says both crude oil and gasoline inventories remain exceptionally high, and that should keep gas prices relatively low compared with recent years' averages.