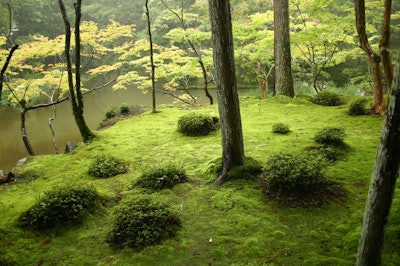 Moss is a primitive plant with a simplistic system of survival. While some see it as a nuisance when discovered in the yard, others enjoy the plush vegetation and the peace it can bring.
The Japanese have used moss in their gardens since the feudal era, covering objects in its lush, green pelt to evoke serenity.
For those who are tired of constant care for their yards but aren't quite ready to make the jump to artificial turf for the sake of a green lawn, moss may provide some middle ground. Should a client be interested in cultivating a moss garden, there are a number of things to consider.
Suitable habitat
Most types of moss grow best in shady areas with high moisture content. However, there are some species, such as "Wallowa Mountain" desert moss, that can tolerate both full sun and drought conditions.
While most say that moss prefers acidic soils around 5.5 pH, moss lacks true roots and does not gain its nutrients from the soil, otherwise, it wouldn't be found on so many different surfaces such as rocks. What the acidic soil does is lower moss's amount of competition. If it is having to fight for space against turfgrass or other plants, moss will not win.
Another condition that is crucial to creating a healthy carpet of moss is compacted soil. Loose soil, leaf litter, or pine straw make it harder for moss to find a stable foundation to spread out from.
Purpose determines choice
There are a number of different types of mosses and each can serve a different purpose in a moss garden, but it is important to discuss the moss's function in the landscape to effectively choose the right type. If moss is being used to fill gaps between pavers in an area that receives full sun, that species is going to be different from what would be used if the moss is going in a shaded area to serve as a lawn.
Ceratodon moss is tolerant of full sun and is an option that could be used between stones on a walkway. Fern moss is a good choice if a moss carpet or lawn is being attempted, as it knits closely together and spreads aggressively while being able to withstand a fair amount of foot traffic.
Time to make it happen
A big drawback when trying to create a moss garden is time. Moss is a slow-growing plant that spreads by spores instead of seeds. When it comes to "planting" moss there aren't a lot of options. One, and by far the slowest choice on the table, is to simply prepare the site where your client is wanting to grow moss and let the spores find it eventually.
While this is the most naturalistic choice available, not many people have that kind of patience. The other option is to use fragmentation. This is where you take pieces of moss and divide it into smaller pieces and spread them apart. The moss will eventually cover the surface and add its new growth on top of itself. To increase the likelihood of survival, it's important to try to find transplanted moss in an area that is similar to where it is being moved.
The growth rate of the moss depends on whether it's pleurocarpous or acrocarpous. Pleurocarpous mosses have a prostate growth habit and are faster than acrocarpous mosses provided there is enough moisture. Acrocarpous mosses have an upright growth habit and grow slower, requiring periods of dryness lest they rot.
If your client is searching for an instant layer of vibrant green, moss may not be the right choice for them. Also, it may be best to think of moss like a cat; it will show up whenever and wherever it pleases.