EDITOR'S NOTE: This column was contributed by Matt Shipp of Shipp Research in Montgomery, Texas.
Backpack sprayers have long been a staple of golf courses, lawn-care companies, pest control operations and vegetation management services. With the desire to offer ease-of-use, manufacturers are supplying battery-powered units to the market with surprising success.
More consumers are also purchasing these models for home and farm use. Hand pumping is no longer needed, as a flip of the switch becomes the modus operandi.
This is an independent review of three popular battery-powered brands that command a sizable market share: Hudson, Solo and Chapin. Functionality and convenience will be discussed, drawing upon many years of evaluating sprayer technology, with the goal of giving readers sufficient knowledge to make an informed purchasing decision.
Hudson
H.D. Hudson Manufacturing Co. has more than a century of global manufacturing and marketing experience in the sprayer business. The Model 13854 Hudson NeverPump Bak-Pac Sprayer is a 4-gallon unit with a 12-volt sealed lead acid battery allowing for 10 continuous hours of spraying at up to 60 psi on a single charge.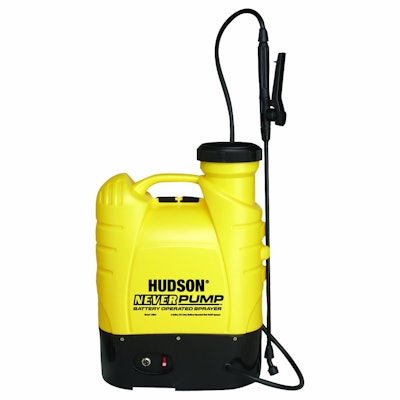 The diameter of the tank opening is 4 5/8 inches, with a removable screen basket. This unit has a long PVC hose at 72 inches, with a 20-inch poly spray wand and locking trigger. There is a second filter located in the wand handle and a third located in the bottom of the tank near the inlet.
The unit features Viton seals and gaskets throughout. Four nozzle configurations come in the box: a fixed cone, and dual fixed cone, a flat fan, and a four-hole adjustable shower nozzle.
The sprayer is priced at about $135 and includes an AC charger.
The Hudson sprayer is quite heavy at almost 15 pounds empty. When fully loaded, the weight approaches 50 pounds. The shoulder straps could have contained more padding and adjusting the length of the straps was not as simple as most competitors.
Overall, the unit sprays with consistent pressure of near 50 psi. However, the fixed cone nozzles (both the single and dual configuration) produced very fine droplets prone to noticeable drift. The four-hole adjustable shower nozzle appears to have limited functionality, and a standard adjustable cone nozzle – the workhorse of most compressed air sprayers and the nozzle offering the most flexibility – is absent from the box.
Solo
Solo is known for quality sprayers. The Model 417 is a mammoth 6.6 gallon 12-volt sprayer with a two-step toggle switch offering low and high pressures of 35 and 60 psi. The battery recharges in three hours.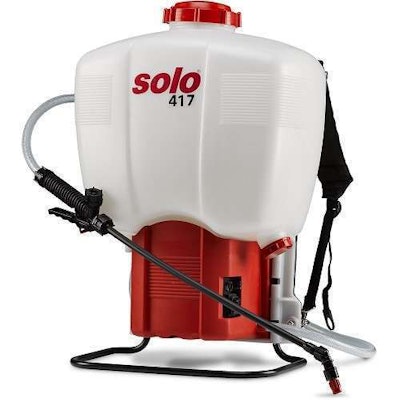 A high-density polyethylene tank has an opening of 4 1/8 inches with removable basket filter. A second filter is found in the wand near the nozzle. The unit contains chemical resistant gaskets and seals.
The 60-inch nylon reinforced hose terminates with a 20-inch wand plus locking trigger. A convenient drain plug is located on the bottom of the tank to expedite cleaning. The box includes an AC charger, and this unit is priced at about $200.
In the past, I have found Solo engineering to be top-notch on their products, almost to the point of overkill. The wide, extra-padded shoulder straps with easy length adjustments and extra padding for the back are a luxury on this model and are definitely needed.
With an empty weight of just under 17 pounds and a full weight of more than 65 pounds, this unit is not for the faint-hearted.
Most sprayers sold in the United States contain tank markings in both gallons and liters, but this unit only shows liters. That may appear trivial, but it requires one more calculation, not intuitive to all, when mixing pesticides or other chemicals for spraying.
The two-step toggle offering two operating pressures is a nice feature not seen in competitors' models. This unit sprays consistently until the tank reaches a volume of roughly 1 gallon. For some reason, surges in the pump do not allow for consistent spraying at this lower volume, especially when walking over uneven terrain. The exact cause is unknown, but suffice it to say, spraying the last gallon of mix was a cause of some frustration not seen with other sprayers in this review.
In addition, only a flat fan nozzle came with this sprayer. Other nozzle options are purchased separately.
Chapin
Chapin International Inc. is certainly not new to compressed-air sprayers, having been in the game since 1903. The company is known for products that exceed industry standards.
One of their newer backpack designs is the Model 63985 with a 20-volt lithium ion battery powered by Black & Decker. An extra-large, 6-inch opening with strainer basket sits atop the 4-gallon poly tank.
Two filters are present, one in the spray handle and one in the tank covering the inlet that can be easily removed for cleaning. The locking hand-trigger valve with 20-inch poly wand is connected to a 48-inch reinforced hose. Viton seals provide chemical resistance.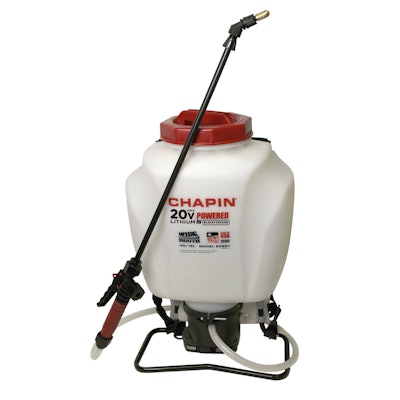 The curvature of the spray tank has ergonomic qualities, as it rests on the back of the user. This unit charges in one hour and will spray continuously for an hour and 45 minutes, discharging up to 50 gallons of finished spray.
In the box you will find a charger, flat-fan nozzle, and adjustable cone nozzle with both poly and brass interchangeable tips. This model retails for about $160.
One obvious difference in the Chapin product is weight. Empty weight is only 9 ¼ pounds, considerably lighter than both Hudson and Solo and very close to traditional hand-pump backpack sprayers.
The electric pump mechanism has no problem spraying down to the last teaspoon.
Chapin uses a replaceable battery pack, removed from a charger stand, that requires seconds to insert. The other two models must be physically connected to a charger near a power outlet. Because the battery pack is the same used with other Black & Decker power tools, additional reserve power can be obtained quickly.
Operating pressure is consistent at near 40 psi, and the adjustable cone nozzle in poly and brass tip options is always welcome. The only negative found was the shoulder straps, which require more padding and could be wider – although a cursory look at online retailers appears to show this problem may have been solved with improved straps on a newer version.
While the Chapin model does not provide the same continuous spray time as Hudson, this could be overcome by using multiple battery packs.
In summary, all three units tested had positive features, but one model stands out form the crowd. The Chapin Model 63985 is more similar in appearance, weight and functionality to traditional backpack sprayers but without the fatigue of pumping. The extra-wide, 6-inch opening in the tank is a bonus.
There is a definite benefit in the reduced weight of the lithium ion battery found in Chapin over the lead acid batteries of both Solo and Hudson. Weight becomes a factor the longer you are wearing the unit, and this is recognized by professionals who spend several hours daily using these sprayers.
An adjustable cone nozzle with the ability to offer a wide-pattern spray or pencil stream is a must. Neither accompanied the Solo or Hudson sprayers. This feature, combined with the observations above, gives the Chapin Model 63985 backpack sprayer the edge as the best overall value.
Matt Shipp earned his master's in crop science and weed science from Stephen F. Austin State University and his bachelor's degree in agronomy from Texas A&M University. Shipp Research provides a variety of chemical testing and analysis services, in addition to consulting services.