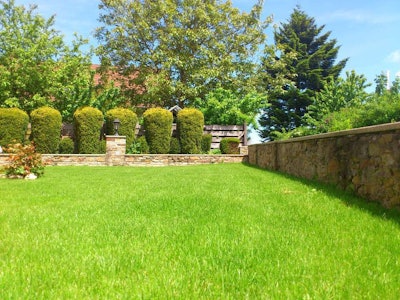 The perfectly manicured lawn has been part of the American Dream since the 1950s, but landscape architect Edwina von Gal is trying to change all of that.
Unlike some, von Gal isn't trying to rid the world of turf, but rather change the way people care for their lawns. Her goal is to promote chemical-free land management and more biodiversity in the yard.
"Lawns use two to four times as many chemicals as agriculture does," von Gal told The East Hampton Star. "There are 118 landscape chemicals now being found in the Long Island aquifer."
Instead of applying chemicals, von Gal has a system known as the "PRFCT Principles" that outlines how a lawn should be managed, such as allowing the grass to grow 3 ½ to 4 inches high.
"Ending that kind of strictly imposed landscape maintenance on a lawn is like taking off the corset; you are giving your grass a chance to move and live and breathe," she told Grist.org.
Von Gal started on her chemical crusade in 2013 after working on the Azuero Earth Project in Panama. The project, which promotes the elimination of chemicals in agriculture, caused her to realize the concept could easily be brought back to the United States; thus, Perfect Earth Project was born.
"That's the connection to Panama: There's no future in continuing to use chemicals because the more you use, the more you need, and they kill everything else," von Gal said.
Early on, when she designed, being chemical-free wasn't a priority for her, but she would generally choose plants that weren't as dependent on chemicals. It was when von Gal turned 65 that she had her epiphany.
"I never asked how clients' lawns were maintained," she told Garden Collage. "It occurred to me that I was doing all this work in Panama based in working without chemicals, but right here I had overlooked the very same thing – going totally toxin-free."
Von Gal's initiative doesn't want to eliminate lawns themselves, but to change how they appear and how they're maintained.
"We would never suggest people live without lawns, unless they have no need for one," she said.
With high-profile clients such as Calvin Klein, Martha Stewart and Larry Gagosian, von Gal is using the Hamptons as a proving ground for her new lawn trend.
"The high-profile clients are always the early adopters," von Gal said. "They are the ones who had the first personal fitness programs. They can afford organic. They are the ones who really started the whole spa thing. They are always that one step ahead."
However, lawn-care professionals also have to get on board before the trend can truly spread. According to its website, Perfect Earth Project sees the landscape industry as a "potential 'army' of environmental land stewards offering career opportunities that are currently undervalued."