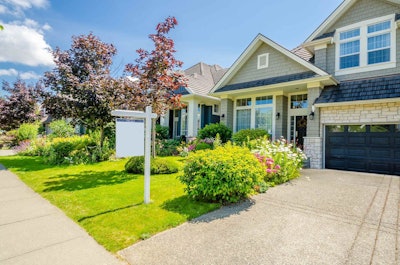 Renovations are done for a number of reasons. A homeowner may be looking to sell soon or perhaps he or she is just tired of looking at the same old thing. Regardless of the reason, one of the most important questions is whether the investment will pay off.
As TLC reported in a recent story, 52 percent of American homeowners polled by Bankrate.com are planning to renovate some portion of their yard. So what are the best landscaping options for those who want to see a good return on investment?
Here are five options you can present to your clients to help them get the most bang for their buck.
Tidy up
A very simple service that can go overlooked, cleaning up a property can make a world of difference.
According to landscape economist John Harris, well-kept grounds can contribute as much as 28 percent to a home's overall value. This curb appeal is especially crucial for those who are trying to sell. First impressions are important, and keeping trees pruned and lawns tidy suggests that equal care has been given to the rest of the house as well.
"The most inexpensive and important way to update your yard is to keep it weed-free," said Stephanie Early, executive assistant at Timberline Landscaping in Colorado Springs, Colorado, in an interview with Realtor.com.
Plant trees
Trees bring many different benefits to the table. In addition to cleaning the air we breathe, they also boost property values. The willingness to pay more for a house with ample trees increases 3 to 7 percent, according to Davey Tree Expert Co.
Once a tree is mature, it can add anywhere from $1,000 to $10,000 in value, according to the Council of Tree and Landscape Appraisers. By providing shade in the summer, trees lessen the need for air-conditioning, and their roots can prevent erosion.
"Planting small trees is a better (investment) over the long term," said Dianna Worthington, vice president of operations for The Grounds Guys.
Once you've shown your client the potential savings trees offer, it's up to you to make sure the right species are selected and planted in the right place.
Add outdoor living
Outdoor living spaces are a huge selling point for homes, as they provide another "room" for entertaining and relaxing with friends. This can be one of the most expensive renovations a client can choose depending on all the bells and whistles they want.
However, just having a fire pit installed won't require a loan to be taken out. According to David Hintzman, president of Integrity Landscape Services in New Berlin, Wisconsin, his average fire pit project costs about $1,400.
Among the benefits of adding a fire feature – aside from making it possible to enjoy the outdoor space longer during the year – is buyers' willingness to pay more for a home that includes such amenities.
Improve irrigation
Irrigation isn't a particularly glamorous landscaping renovation, but your clients will appreciate the savings they'll see on their water bills.
Typically, one-third of a household's water bill is spent on landscaping. Low-water-use irrigation systems, along with planting drought-tolerant vegetation, can produce dramatic savings.
As Early told Realtor.com, choosing to xeriscape is not only environmentally friendly, but also something that potential buyers look for.
Pick perennials
Everyone loves having flowers to brighten up the yard, but generally these tend to be annuals, making their beauty fleeting. If your client wants blossoms but balks at the prospect of shelling out the cash every spring to produce them, suggest adding perennials to the landscape.
This doesn't mean annuals aren't allowed, of course; it just means there needs to be a sufficient number of perennials in the landscape to provide color year-round.
"Redoing your landscape takes a lot of work," said Worthington. "You don't want to put this much effort in every year, so plant plenty of perennials to act as a backdrop. Then supplement with brightly colored annuals."
Heuchera, asters, lavender, and yarrow are just a few of the possible choices when considering perennials.