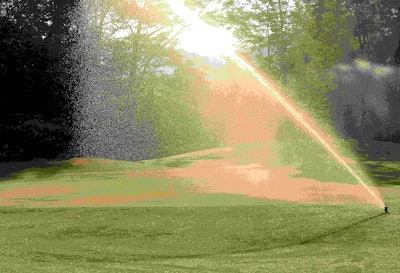 In the face of continuing drought, Fresno, California, is looking to use recycled wastewater to ease the burden on its groundwater sources.
The City Council voted unanimously to install a new pipeline system that will provide recycled water to irrigate golf courses, parks and other open spaces, according to The Fresno Bee.
The $2.47 million contract was awarded to AECOM Technical Services Inc., an international engineering and consulting firm, the newspaper reported. AECOM will design the 14.4-mile irrigation system and also assist the city in applying for government loans to offset some of the cost.
The recycled water will travel from Fresno Wastewater Treatment Facility to the nearby Copper River Country Club, Fort Washington Golf Club, Woodward Park, and several schools in the area, said Kevin Norgaard, a supervising engineer with the city's wastewater management division.
The system will run separately from those that carry potable water to homes and businesses. The actual construction of the recycled water-mains is estimated to cost about $26 million and is not included in the AECOM contract. According to Norgaard, the construction of the system will take place in the 2018-19 fiscal year.
Fresno has also recently awarded contracts to Clark Bros. Inc. to build a pump station, and Garvey Construction to fabricate a distribution system for recycled water that will eventually irrigate the city's Roeding Park.
All of these projects are part of the city's master plan to lower the use of potable water wherever possible by using recycled water.
Its long-term goal is to provide 25,000 acre-feet of recycled water annually. An acre-foot is 326,000 gallons, which is the amount needed to submerge a football field under a foot of water.
It is estimated that the average Californian uses between one-half and one acre-foot of water in a year, according to the Water Education Foundation.