York Rakes, a division of York Modern Corp. in Unadilla, New York, has introduced a landscape rake designed for use with skid steer loaders.
Called the Model SSF, the rake may be set to push or pull as well as angle to discharge material left or right. York Rakes says its five working positions can handle almost any landscaping or maintenance job. The Model SSF is offered in 6, 7 and 8-foot raking widths.
The new product comes with "the unique push/pull, full floating skid steer frame," York says, with the proper mounting plate attached. Buyers specify the skid steer brand and model when ordering.
The Model SSF landscape rake can also be equipped with optional caster wheels, grader blade, end boots and hydraulic angle, the manufacturer says.
BioPro adds tree, shrub fertilizer
BioPro Technologies LLC has expanded its fertilizer line, introducing a new tree-care product, ArborPlex (14-4-5).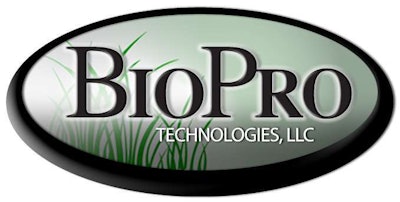 The liquid nutrient solution is designed to promote both tree and shrub health. Formulated with 50-percent slow-release nitrogen, ArborPlex is designed to provide extended feeding to promote balanced root and shoot growth, BioPro Technologies says.
According to the manufacturer, a high-quality phosphorus source provides rapid uptake and longer soil availability to stimulate root development and improve stress tolerance. Potassium is supplied from "superior source" potassium hydroxide, which offers high solubility and a low salt index, BioPro Technologies says.
ArborPlex also contains fully chelated micronutrients to improve color and improve nutrient deficiencies, the company says, and its formula is chlorine free.
For more information, visit BioPro Technologies here.
Camso touts over-the-tire tracks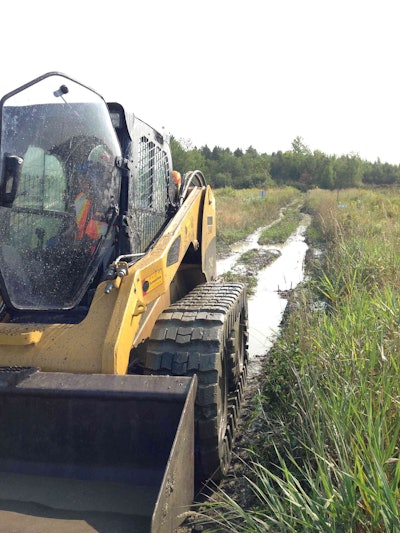 Camso, formerly Camoplast Solideal, brands itself as "The Road Free Company," and it promises its over-the-tire rubber tracks, the Model OTT HXD, provide skid steers additional mobility without damaging turf.
Camso says the OTT HXD increases skid steer loader traction, flotation and tire life. The rubber tracks can be installed in 20 minutes, the company says, and work well on asphalt and concrete in addition to turf.
Noting the increasing popularity of skid steers in landscaping and construction, Camso markets its over-the-tire tracks as a valuable attachment. Traction, of course, is a main selling point, but the manufacturer is also quick to tout "superior flotation," promising the OTT HXD can improve a loader's flotation by five times over the same machine running on pneumatic tires.
For more information, visit this page on Camso's website. And here's a YouTube video on the product:
BioSafe launches GreenClean Pond Block
BioSafe Systems says its first new product of 2016, GreenClean Pond Block, increases water quality and clarity with naturally occurring bacterial strains and enzymes.

The manufacturer says the product works by reducing excess nutrients in ponds that are generated by organic debris, fish waste and fertilizer run-off, improving the overall health of the pond ecosystem.
One 5-pound GreenClean Pond Block treats up to 5 acres/feet of water for 30-60 days, BioSafe Systems says, and isn't harmful to fish, plants or any aquatic life. No license is required for application.
The pond product also reduces available ammonia, nitrate and phosphate and improves dissolved oxygen levels.
For more information, visit the company's website here.
Mini-Digger from Avant makes debut
Avant Techno USA says its new Model 420 Mini-Digger is designed for light professional use, but the company is also marketing the machine to homeowners.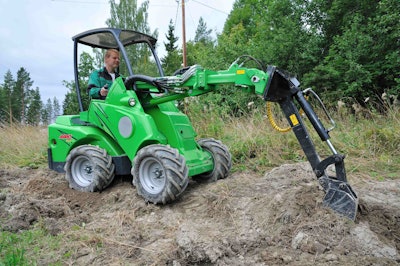 The articulating loader has a telescopic boom and joystick control. Powered by a 20-horsepower engine, the 420 Mini-Digger is just over 2100 pounds. The machine is 86.4 inches from front to back and has a lifting capacity of 1,200 pounds.
Avant Techno USA says the new digger is the right fit for jobs requiring a digging depth of 59 inches or less.
The digger mounts directly on the quick-attach plate of the loader and operates through the auxiliary hydraulics control lever.
Avant offers three bucket options, ranging from 9.8 inches with teeth to a 39.4-inch straight edge and a bucket tilt adapter.
For more information, visit Avant Techno USA's website here.
Mechanical pesticide designed for trees
Envirometrics Systems USA Inc. says landscape contractors whose customers ask for environmentally friendly pest control will appreciate its BugBarrier Tree Band.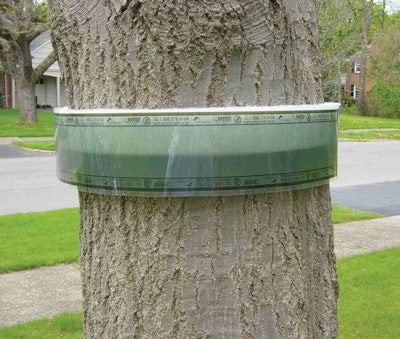 The "non-chemical" product is a pesticide-free, pheromone-free adhesive banding system and is registered with the EPA as a mechanical pesticide, according to Envirometrics Systems USA.
The company says the BugBarrier Tree Band effectively controls insects that climb up trees. Target insects include gypsy moths, spring and fall canker worms and winter moths.
The manufacturer says the band can be installed or removed in five minutes or less. It consists of a dense, flexible fiber barrier and a film barrier with peel-off protective backing. When installed, the adhesive faces the tree.
You can learn more about the BugBarrier Tree Band at this website.