A technology once used exclusively for home siding is making its way to backyard decks, according to Allura, maker of the fiber cement decking. The company boasts of the material's imperviousness to water damage, wood rot and wood-boring insects, as well as color fading and board gaps.
Allura's director of customer relations, Tom Taylor, says fiber cement decking "looks like wood, but with none of the hassles." It never needs to be painted or stained "unless you want to change the color," Taylor said.
Based in Houston, Allura is a subsidiary of Plycem Co., a manufacturer of fiber cement materials in Costa Rica. The company says its products are backed by a 25-year limited warranty, with a 15-year limited warranty on color fastness. Allura says its decking is designed and tested to withstand hurricane-force winds.
Case dealers to carry transmission fluid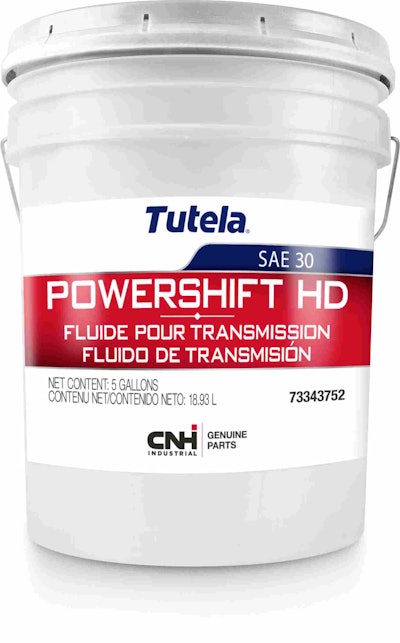 Case Construction Equipment announced that Tutela Powershift HD, the all-makes powershift transmission fluid, is now available through its dealer network. The offering will enable Case dealers to better service mixed fleet customers, the equipment maker says.
Tutela Powershift HD is recommended for use in heavy-duty powershift transmissions and final drives of today's construction and mining equipment. It's designed for all makes of equipment, Case says, ensuring its dealers can operate as one-stop shops for service and maintenance of other manufacturers' equipment as well.
The oil is engineered to deliver balanced friction performance to transmissions, clutches and wet-brakes, while protecting axles, final drives and other drivetrain components. The transmission fluid is available in two viscosity grades – SAE 10 and SAE 30 – in both 5- and 55-gallon sizes.
Tutela Powershift HD can also be used in hydrostatic and hydraulic systems of construction and mining equipment, where other fluids may be required.
Vista Pro heralds new catalog: print or app
Vista Professional Outdoor Lighting has launched a new low voltage landscape product catalog that's available in print and, for the first time, as a free mobile app that users can download from Google Play or iTunes.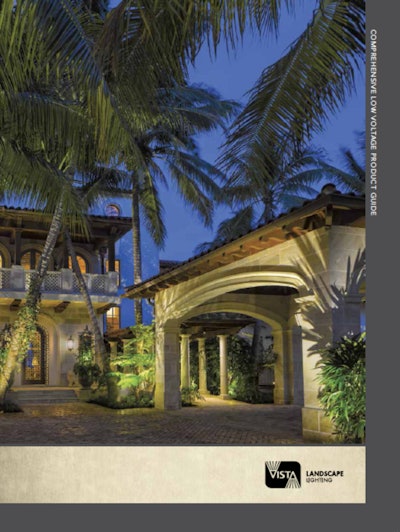 "Our professional customers told us that they often need access to product information and specs on the go," said Cruz Pérez, Vista's vice president of marketing. "We've listened to their feedback, and the result is the new Vista Pro eCatalog app."
As always, the catalog features product details, specifications, technical data and ordering information. Vista Pro says the new app all of the same information as the print catalog, but with additional functionality such as search capability.
Vista Professional Outdoor Lighting is headquartered in Simi Valley, California, and has been designing and manufacturing lighting for the architectural and landscape industries since 1984. In addition to its line of lighting fixtures, the company makes and supplies, transformers, HID ballasts and accessories for residential, commercial, public area, resort and institutional applications.
Paladin expands Bradco Pallet Fork line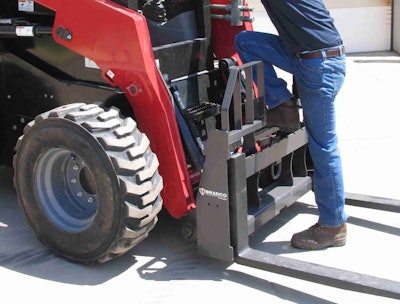 Paladin Attachments, a manufacturer of coupler systems and attachment tools, has expanded its Bradco Pallet Fork line to include "Walk‐Thru Pallet Forks." The new product features an open design that allows the operator to step through the frame upon entry and exit from the loader.
Paladin says the heavy-duty design of its Bradco Pallet Forks for skid steer loaders makes them capable of handling up to 6,200 pounds.
Lever-style locks provide additional leverage when operating the tine latching mechanism and the patented pull "D" ring for pulling or retaining loads, according to the manufacturer.
The new walk‐through design is backed by Paladin's two‐year warranty. In addition to Bradco, Paladin brands include CP, CustomWorks, CWS, FFC, Harley, Jewell, JRB, Kodiak, McMillen, and Sweepster. For more information, visit the company's website here.