With a maximum theoretical output torque of 2,119 ft-lbs, the new Digga Mini Loader Auger Drives are more powerful than comparable units, according to the manufacturer, Iowa-based Digga North America.
The Digga 1MDS2 and 1MDS4 auger drives are engineered for use on mini loaders and compact tool carriers. The new planetary gearbox-driven auger drives will work effectively on auxiliary flows of between 6-16 gallons per minute, Digga says, accommodating the wide range of units on the market today. They come with a unit-specific mounting plate for easy installation and set-up.
The Model 1MDS2 Auger Drive is designed for simple applications with Single Axis 2-way swing capabilities (FWD-REV). The Model 1MDS4 is designed for applications where Dual Axis 4-way swing capabilities (FWD-REV-LFT-RGT) are required.
Digga Drilling Drives are covered by a 5-year warranty on the planetary gearbox, a 3-year warranty on the hydraulic motor, as well as a lifetime shaft pull-out warranty. For more details about the product and its manufacturer, visit Digga's website here.
Dust collector designed for metal shavings
Magna-Matic Corp. has developed a dust collector for metal grinding applications. The MAG-200, which is expected to be ready for shipment by mid-July, can be used with all Magna-Matic lawn mower blade sharpeners or any grinding machine, the company says.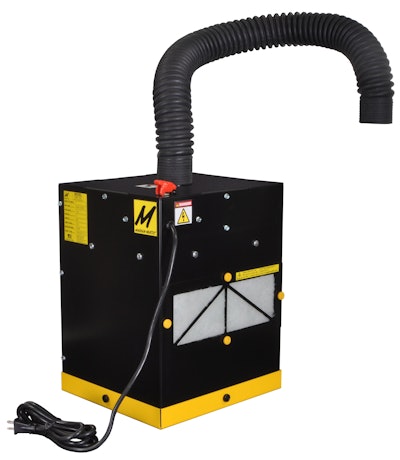 It features 2 stages of air filtration (MERV 8), and is available with an optional 3rd stage of filtration (up to MERV 13). The MAG-200 safely draws live sparks, grit and dust associated with all dry grinding processes with an impeller and contains them in a full steel body.
Particles and dust are filtered from the air exiting the machine.
Magna-Matic says the dust collector will significantly improve working conditions for employees sharpening lawn mower blades while keeping your maintenance shop cleaner.
For more details on the product, visit the company's website here.
Sarlo wants BigMo to be your one push mower
Sarlo Power Mowers Inc. is reaching out to landscape professionals in a new YouTube video (below) about its BigMo walk-behind mower. BigMo features a 30-inch cutting deck, hydrostatic transmission and the largest engine available in its class.
Sarlo Power Mowers says the BigMo is built to commercial-duty specifications and equipped with sufficient power to deliver a top quality, superior cut on manicured lawns, but is also engineered to handle rough cutting and heavy jobs.
BigMo has an 11-gauge steel deck and offers seven cutting positions with no-tools height adjustment, bearing-mounted, no-flat front swivel caster wheels, positive reverse and differential axle, electric clutch, commercial, greaseable spindle and a fabricated frame.
It's powered by a 10.5-horsepower Briggs & Stratton Intek engine.
Here's the video of BigMo in action: