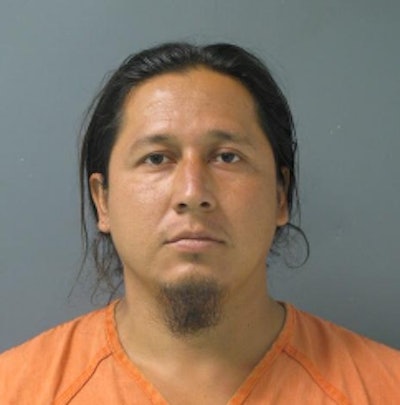 The misplacement of a string trimmer led to the death of 45-year-old Vincente Rodriguez in Liberty County, Texas.
According to the Houston Press, Rodriguez had found a string trimmer lying beside the road a few weeks ago and brought it home. The tool actually belonged to Melvin Adalberto Morales-Rivas and his lawn-care partner, Erwin Antonio Donis-Morales.
A little after midnight on Sunday, June 26, Morales-Rivas and Donis-Morales went to Rodriguez's home. Rodriguez's wife, Coreena Rodriguez, told police that they were woken to loud banging on the door and when she answered it Donis-Morales began asking about purchasing a lawn mower that wasn't for sale.
She then noticed that their van was on fire and her husband rushed out to put out the blaze. This was when Morales-Rivas appeared and shot Rodriguez multiple times, according to police.
That evening, Morales-Rivas' partner turned himself in at the police station, bringing his .40-caliber semi-automatic pistol, which he said Morales-Rivas had used to kill Rodriguez.
He told police they had only planned to go talk to Rodriguez and get him to return the string trimmer. Donis-Morales left his gun on his car seat when he went to knock on the door.
"Again, according to Donis-Morales, both the vehicle fire and the shooting came as a total surprise to him, as none of this type (of) reprisal was talked about or discussed prior to the arrival at the Rodriguez home," Captain Ken DeFoor, spokesperson for the Liberty County Sheriff's office, told the Cleveland Advocate.
Donis-Morales' story prompted the police to issue a warrant for Morales-Rivas' arrest, and the 28-year-old turned himself in about 2:30 a.m. the following day.
Morales-Rivas was charged with murder, but policy say he has not confessed to the shooting. He is currently being held in the Liberty County jail.
"Due to the fact he has been deported one time from the United States and when he reentered the U.S. is unknown, he also has a hold on him for Immigration (and Customs Enforcement)," said DeFoor. "The investigation is continuing and it will be determined at a later date if additional charges such as arson for the burning of the vehicle will be included."