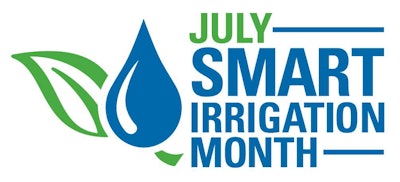 If your landscaping company offers irrigation services, next month is an opportune time to promote the efficient use of water – in a visible, public way.
July is Smart Irrigation Month, and heralding your commitment to "best practices" could help position your company as a leader in smart water stewardship.
If you're wondering how to take advantage of the opportunity, the Irrigation Association (IA) stands ready to help. The trade organization has put together a campaign that includes graphics and news articles you can use on social media, and even a press release template requiring only that you fill in your company's information and send it off to your local newspaper and TV news stations.
Getting involved, IA says, can be as simple as adding the Smart Irrigation Month logo to your web site, ads or newsletter.
If you receive feedback from potential clients, you can tell them that "smart irrigation" isn't a particularly complicated subject. Today's best irrigation systems, properly planned and installed, accomplish the following:
Ensure plants and turf receive the right amount of water at the right time.
Minimize overwatering.
Adjust watering automatically to account for rain and other conditions.
Minimize evaporation and waste.
You'll find a number of ideas for promoting Smart Irrigation Month – and your company, of course – on the IA website. For example, the association has prepared several statement stuffers highlighting efficient water use; all you have to do is print them and insert them into a client's bill, or simply attach them to a bill sent electronically.
You may also want to consider playing host to a live demonstration of water-saving irrigation technologies, IA says, whether in the field or at your location. In addition to advertising the event, by all means invite local news media to cover it.
Smart Irrigation Month is a good time to encourage your customers to make their existing systems more efficient with easy retrofits, such as rain sensors, moisture sensors and pressure regulators.