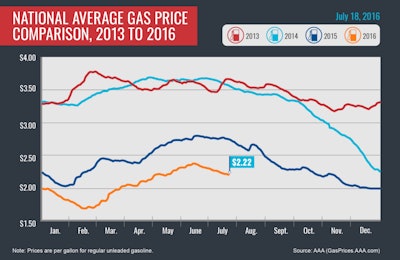 The national average price for regular, unleaded gasoline has fallen for 35 out of 36 days, AAA reported Monday, dropping to $2.21 per gallon – the lowest price for this time of year since 2004.
That's great news for landscapers, especially coming during the heart of the industry's busiest season. While the gas used in their power equipment represents a significant cost for most, it's the fuel used by their service trucks that has the biggest impact on the balance sheet.
Fleetmatics, a company that provides web-based and mobile fleet-management services, says trucks operated by its landscaping customers drove an average of 111 miles per day in 2015, or a total of nearly 359 million miles.
Gasoline is normally priced higher during the summer because of the demand from vacation travelers. This summer, though, with abundant supplies and declining wholesale prices for crude oil, AAA says gasoline prices are trending down in most parts of the country. Average prices are about 55 cents less than a year ago.
In many parts of the country, gas prices have again dropped below $2 per gallon – something drivers haven't seen during the summer in more than a decade.
AAA says about one in four U.S. stations is selling gas for less than $2 per gallon today. The organization expects gas prices to remain relatively low for the rest of the summer.