AcuRite, a maker of weather monitoring and forecasting technology, has introduced a product it calls the "My AcuRite" weather environment system. The platform, which is customizable and expandable, enables professional growers to measure local conditions accurately, the company says.
My AcuRite's cloud-based platform delivers measurement technologies to a consumer's laptop, tablet or smartphone. An intuitive, easy-to-navigate app and web interface connects serious growers with actionable information about their specific location, the manufacturer says.
My AcuRite can be expanded to deliver a variety of indoor environmental monitoring functions and customizable notifications. These features help users stay ahead of changes affecting indoor locations such greenhouses.
Here's an abbreviated list of My AcuRite features:
Precision weather measuring, including rainfall tracking, wind speed, wind direction, air/water/soil temperature, humidity and barometric pressure.
Ability to track, analyze, export and archive historical weather data.
Minimize potential for water damage with water leak detection.
Monitor air quality to prevent mold and allergens with high indoor temperature and humidity alerts.
Properly water lawn, flowers and garden with rainfall tracking.
Know the best time to plant with soil temperature monitoring.
Customizable alerts include email and phone notifications about conditions you want to track, AcuRite says, and the ability to connect up to 10 indoor and outdoor monitoring sensors. My AcuRite is compatible with a full range of environmental sensors, including water leak detectors, liquid temperature sensors and soil temperature sensors.
To learn more about AcuRite and its products, visit this webpage.
Shell rolls out new API CK-4 engine oil
New Shell ROTELLA T4 Triple Protection and Shell ROTELLA T5 10W-30 Synthetic Blend have been developed to meet the new API CK-4 service category for diesel engine oil. Nearly a decade has passed since the last diesel engine oil category, CJ-4, was developed and the standard has lasted well beyond the life of the typical engine oil category.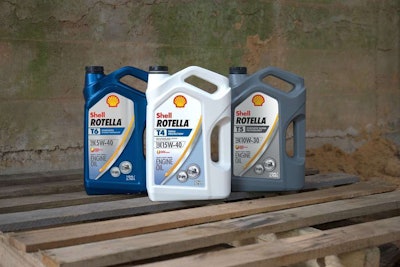 The American Petroleum Institute (API), working with engine manufacturers and oil makers, has redesigned heavy-duty engine oil specifications to meet the needs of current and next-generation engines. This has resulted in two new categories: API CK-4 and API FA-4.
"Shell Lubricants has been a leader in the development and testing of next generation engine oils that will meet the new API specifications without compromising oil life or wear protection," said Dan Arcy, Global OEM technical manager for Shell Lubricants. "We have conducted more than 40 million miles of real-world testing to demonstrate the performance of our next-generation Shell ROTELLA engine oils to meet the CK-4 and FA-4 specifications."
CK-4 oils will replace current CJ-4 oils and will be completely backwards compatible with all current engines. They will be designed with improved oxidation resistance, shear stability and aeration control.
FA-4 oils include lower viscosity grades designed for next-generation diesel engines to help maximize fuel economy without sacrificing engine protection. Some older engines were not designed to operate with lower viscosity oils, so backwards compatibility is limited.
Shell ROTELLA T4 Triple Protection is the most technically advanced formulation of the product ever, the company says. It is designed to sustain emissions control system durability where diesel particulate filters and after-treatment systems are used.
Shell says the oil is suitable for virtually all modern low-emission heavy duty engines and older hard-working diesel engines.
In API industry wear tests, Shell ROTELLA T4 Triple Protection 15W-40 delivered an average 50 percent more wear protection than required to meet the new standards. It also provided strong wear protection in CK-4 engine tests, including the Cummins ISM and ISB.