Chapel Valley Landscape Co. recently donated landscaping material and services to the Salvation Army in support of an annual day of service sponsored by the Baltimore area chapter of the Building Owners and Managers Association (BOMA).
Headquartered in Woodbine, Maryland, Chapel Valley is a commercial landscape management company that serves the Mid-Atlantic region as well as the Southeast.
The day of service project involved the conversion of a boarding home into a women's shelter.
The home was in need of extensive landscaping. Chapel Valley provided the design, plant material, mulch, stone and initial clearing of the site in preparation for the special day of service.
When that day came, members of BOMA-Baltimore were led by the Chapel Valley team in performing basic grounds maintenance, plant installation and trash removal. After several hours of hard work, the exterior of the woman's shelter was completely renovated.
CASE sponsors 'Labor of Love' concert
CASE Construction Equipment will again play host to the "Labor of Love" concert in Racine, Wisconsin. This year's Labor Day event will feature country music star Chris Young.
Proceeds from the concert will benefit Team Rubicon, a disaster response organization comprised of more than 36,000 veterans and first responders, with the goal of helping the organization expand its skills training programs.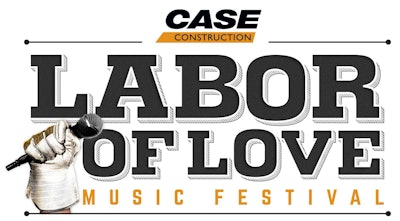 Tickets can be purhased here.. The event will be held at Racine Festival Park, with plenty of local food vendors on hand. A silent auction, which also will benefit Team Rubicon, also is planned.
The partnership with CASE and Team Rubicon is a natural one for Young: His father works in construction and several family members, including his younger sister, are either in the Marines or are U.S. military veterans.
"I appreciate the CASE commitment to helping veterans fill the skills gap through Team Rubicon's focus on training and development," Young said. "I'm glad to support the important work they do in not only giving veterans the opportunity to improve job skills but also serve the community."
"Labor of Love" launched in 2015 with the goal of connecting veterans with jobs and training in the skilled trades. Last year's concert raised $10,000 for Wounded Warrior Project.
"We launched Labor of Love last year to build a bridge between job-seeking veterans and a critical shortage of qualified equipment operators and technicians," says Scott Harris, vice president for North America with CASE Construction Equipment. "This year, we've worked with Team Rubicon on their operator training program by providing equipment and support."
CASE will also be raising funds for Team Rubicon through an online fundraiser. To donate and show support for "Labor of Love" and Team Rubicon, visit CASE.TeamRubiconUSA.org.
Heaviland wins 2 California landscape awards
Heaviland Landscape Management, a commercial landscape management company based in Vista, California, won two awards at the 2016 California Landscape Contractors Association (CLCA) San Diego Chapter Beautification Awards.

The awards recognize excellence among California licensed landscape professionals, specifically those working to conserve natural resources while maintaining the San Diego area's unique beauty through careful design, installation and management of landscapes.
Heaviland Landscape Management was chosen for the following awards:
Award Winner, WaterSmart Landscape Construction – Small (Fairbanks Montecito HOA Landscape Renovation)
Achievement Award, Turf Conversion – Large (Palomar Tech Center landscape renovation)
"These awards validate our team's proficiency in water-smart design, construction and sustainability," said Tom Heaviland, the company's owner and president. "I am proud of the industry experts we've assembled on our staff and am thrilled they're receiving due recognition."
Heaviland served as CLCA San Diego chapter president in 2001 and his late father, Ron Heaviland, filled the role in 1994. This year, Heaviland's son, Christian, served on the CLCA Awards Committee, making him the third generation of the company to give back to his industry within the San Diego community.
According to Heaviland, the larger of the two award-winning projects, the Palomar Tech Center job, consisted of a 42,860-square-foot renovation project. Enhancing the site's overall beauty through landscape design, the project also involved a conversion to a recycled water irrigation system.
Along with the drought-tolerant plants used in the landscape design, the irrigation system retrofit is expected to save the commercial property a projected 2.3 million gallons of water annually.
Vestaron, Capua Bioservices announce alliance
Vestaron Corp., a developer of naturally occurring peptides with anti-insect properties, has reached a multi-year manufacturing agreement with Capua Bioservices for production of Vestaron's Spear family of products.

"We are very excited about engaging with Capua for microbial fermentation, focusing on scale-up and commercial manufacturing," said John Sorenson, Vestaron president and CEO. "Capua Bioservices is a world-class organization with extensive experience in the fermentation of the particular type of yeast that we're using, and we consider this a critical link in our commercialization of Spear products."
Spear products are bioinsecticides that are non-toxic to humans, mammals, birds, fish, honeybees and several other beneficial insects, according to Vestaron, which says the absence of toxic residues gives growers maximum flexibility in growing and harvesting their crops. Vestaron says its Spear products are just as effective in controlling insects as synthetic insecticides.
Capua BioServices is a global provider of services in the field of custom microbial process development and manufacturing. The company offers fermentation-based solutions for applications in pharmaceuticals, food, feed and other bio-industrial markets.