Landscaping companies with sizable tree-care operations may want to check out Morbark's newest product offering for chipping applications, the 223 Stand-alone Flail.
Based on market research and input from customers, Morbark says, the company saw the need for a smaller, more affordable machine giving contractors the option of producing clean chips or transitioning back to a fuel chip. The 223 Stand-alone is also easier to transport.
The new flail features a 56-by-23-inch opening, enabling it to accept logs up to 23 inches in diameter at a feed rate from 70-150 feet per minute.
The Morbark Integrated Control System allows for fine adjustment of feed rate and flail drum speed so that bark removal is maximized and removal of "good" fiber is minimized, according to the manufacturer.
Morbark says its new machine boasts the most ground clearance and debris plow pushing power in the industry, eliminating the potential of plugging, while four independent stabilizers level the machine on nearly any type of jobsite.
Suction pump disassembles for cleaning
Underhill International recently introduced the Gulp UltraMax Plus suction pump for cleaning up water-soaked areas on turf and landscape, including valve boxes and sprinklers.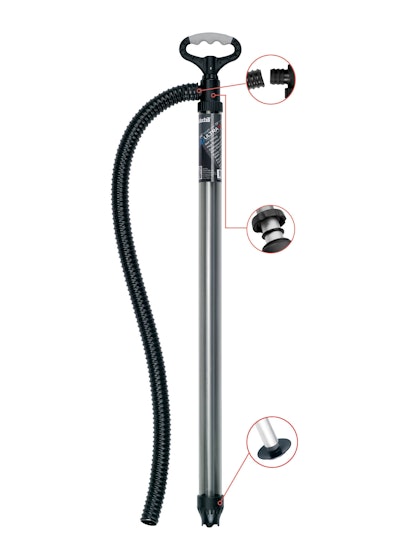 Underhill offers three models: 36-inch length with 72-inch hose; 21-inch length with 18-inch hose; and a 12-ounce syringe version.
According to the manufacturer, UltraMax Plus is the industry's first manual pump that completely disassembles for maintenance and features replacement parts for longer life. The O-ring and wiper seal are removable for cleaning or replacement, along with the head assembly and intake foot/filter.
The self-priming pump handles an extra high volume of water and Underhill points to the comfort of the "ergonomically designed handle."
UltraMax Plus has a clear, heavy-duty polycarbonate cylinder body and aluminum grade pump shaft. A sure-fit discharge hose connector stays intact during all clean-outs.
Batteries developed for commercial vehicles
Robert Bosch LLC has launched a new line of heavy-duty batteries for commercial vehicle owners and fleet operators.
The batteries were developed to withstand the extreme conditions that are unique to heavy-duty vehicles, including extended idling and severe temperatures, Bosch says.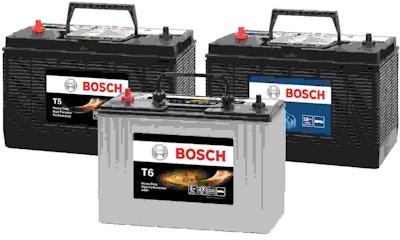 The new line includes the Bosch T6 Battery with AGM (absorbent glass mat) technology, the Bosch T5 Dual Purpose Battery and the Bosch T4 Battery. The company says absorbent glass mat technology is among the newest innovations in battery design and construction. It incorporates special microfiber glass mats that absorb battery acid to protect the battery plates. The plates and glass mats are tightly arranged with an optimal level of compression to ensure premium performance and reinforced durability.
The T5 Dual Purpose and T4 Batteries, meanwhile, deliver optimum current flow and ensure a long service life, Bosch says. Both batteries feature faster re-charging capabilities compared with conventional batteries, flushed tops for minimized risk of acid leakage, maintenance-free operation, and an 18-month free replacement warranty.
The batteries' "dual purpose functionality" provides a reliable power supply for all electronic needs, even with the engine shut off, the company says.