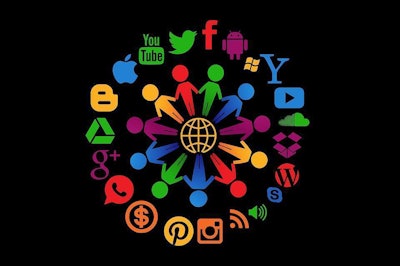 Gone are the days when social media represented just a new craze for teenagers to communicate with each other. Having a web presence builds credibility and being active and engaged with users has multiple benefits.
If you own a small landscaping business, you probably juggle a number of tasks and don't want to add social media management to your already precarious house of cards. You haven't grown enough to justify hiring someone to handle it for you, but you are also missing out on chances to grow by not participating.
Set a goal and post away
If your time and resources are limited, you need to make the most out of what you do share on social media. To make sure that you reap the benefits from posting, you need to figure out your goal.
Are you trying to increase brand awareness? If your company is already well-known in the area, maybe you want to let people know about a new promotion or service you are offering. Whatever your goal is, make sure that it is specific, measurable, achievable and will help your company in some way.
Different audiences will gravitate toward various social media platforms so it's important to be where your niche groups interact.
Engage, engage, engage
"Engagement" is tossed around constantly in any discussion about social media because this is where interaction can occur and set off a chain of events. Say a person has just begun to consider a landscaping renovation project. They aren't going to walk into your company headquarters and start asking questions or even pick up the phone and call. For the time being at least, this is just a thought your potential client is having, a vague inclination at the moment.
They want to do some research on their own. They'll go to your website (you should have one) and look to see if you offer the work they want done. Then they'll look at your project photos. If you've piqued their interest, they'll head to Facebook to see what your ratings are on your company page.
After seeing some glowing reviews, they might decide to send you a message or comment on your wall. This gives you a chance to respond in real-time and let them feel like they are important instead of letting them talk to a voicemail machine.
For current clients, this can serve as another facet of customer service. If they voice a concern or problem on social media, you can quickly answer with a solution. The more engagement with customers you have, the stronger the relationships and trust in your brand become.
Sharing content conscientiously
On your personal social media accounts, you probably aren't thinking about your content. You share as much or as little information as you see fit and you aren't worried about losing followers because these are your friends who are interested in your life and what you are up to.
With a business social media account, you can't afford to be inconsistent with your postings and you need to develop a voice that is friendly but businesslike. Naturally, you want to be yourself, but on your business site you'll want to be your businesslike self, not your sitting-in-the-recliner watching football self.
People are looking for value when they are following a business page's content. You can choose to generate this on your own through blog tips you share from your website or curate reputable third-party articles that are informative and useful.
To prevent a quick burnout in interest in your company, try to keep your promotions to one a week. The other content you share can still have a call-to-action in it, but it needs to be valuable on its own without the reader having to buy a service.
Since social media shouldn't take itself too seriously all the time, feel free to throw in some fun, quirky topics or questions to get the conversation going. If you use a social media management tool such as Hootsuite or Sprout Social, you can plan far ahead with some of your topics by taking a look at some of the upcoming holidays.
By choosing a trending topic, such as National Dog Day, this allows you to take advantage of real-time marketing, which is said to have a return on investment (ROI) of at least 50 percent, according to marketing software Wayin.
Social media setbacks
There are tons of taboos when it comes to posting and sharing. For businesses specifically, here are some quick no-no's to avoid:
Don't check out on the weekend. Just because your office is closed doesn't mean social media closes Saturday and Sunday. If anything, this is primetime for people to be actively perusing their feeds. There is more competition for your audiences' attention during the week so plan ahead and schedule some interesting content to post on weekends.
There is nothing wrong with automation, especially is you already have a small staff doing a number of more important things. However, don't leave the social media manager tool completely on autopilot. A post about a certain topic could be seen in incredibly bad taste due to some breaking news that just occurred around the same time. Stay aware of what is happening. Also try to mix up the wording, if not all the information, for the posts on different platforms; otherwise, people won't see why they need to follow you on both Facebook and Twitter.
Don't lose your cool. In the semi-anonymous world of the internet there are trolls aplenty. These are individuals who are trying to be as disruptive and provocative as possible. They will attack your company and your good followers simply because they can. You can politely address them and try to solve their problem if you think they really are a dissatisfied customer; if not, you can simply block them.