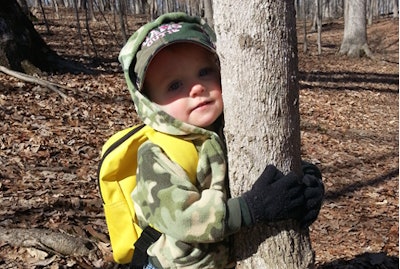 As part of The One Tree Initiative, Eddie Bauer will donate up to 25,000 trees to American Forests through the #Hug2Give campaign.
To participate, people are asked to simply share a photo of themselves or a friend hugging a tree on either Instagram or Twitter with the tags #onetree, #hug2give, @eddiebauer and @americanforests.
For every photo posted between now and Sept. 15, Eddie Bauer will donate $50 to American Forests, a non-profit conservation organization, and donate one tree for every dollar contributed, up to 25,000 trees.
Eddie Bauer has partnered with American Forests to protect threatened forest ecosystems for 20 years now and has helped plant more than 6.8 million trees.
To celebrate its anniversary, Eddie Bauer launched The One Tree Initiative in February 2016 and matched customer donations during Earth Week, which resulted in 129,000 trees being planted.
"Eddie Bauer, the man himself, spends his entire life encouraging people to get outside. He reminds them to assume personal responsibility for preserving the beauty of nature," said Mike Egeck, president and CEO of Eddie Bauer. "#Hug2Give is our way of continuing that mission."
Customers at Eddie Bauer can also opt to add a dollar to their purchase to ensure that a tree is planted.
"Eddie Bauer is such an iconic brand that has historically enabled people to have rich outdoor experiences," said philanthropic ambassador Ryan Reynolds. "It is truly up to us to preserve our forests so that future generations can continue to have those experiences and I am proud to help support that."