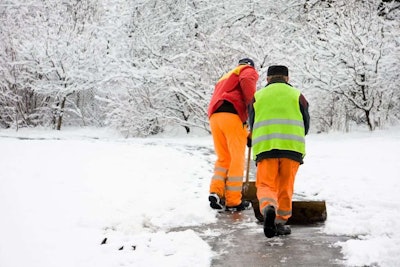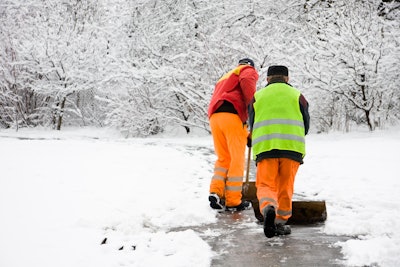 When thinking of personal protective equipment, clothing can tend to be overlooked, but it is a crucial line of defense for landscapers when they are exposed to all manner of the elements.
Depending on the season and the type of work being carried out, your employees' attire will need to vary. Here's a simple breakdown of what is suitable clothing for certain situations.
Summer
Working out in the heat can cause one to want to abandon as much clothing as decently possible, but the threat of skin cancer is serious enough that the Occupational Health and Safety Administration (OSHA) advises employers one of the best ways to protect employees from ultraviolet radiation is wearing loose-fitting long-sleeved shirts and long pants.
The clothing should be light-colored so it doesn't absorb the sun's heat. Breathable fabrics and those that wick away sweat help keep a person's body cool instead of absorbing the moisture.
Wide-brimmed hats are advised as they are able to protect the neck, ears, nose, eyes, forehead and scalp from sunburns far better than a baseball cap.
OSHA also advises that workers outside wear sunglasses that block UV rays.
Long-sleeves and pants not only protect against skin cancer, but can also prevent tick and mosquito bites and contact with irritating plants like as poison ivy or poison oak.
Winter
The best rule of thumb for working in cold winter conditions is to wear at least three layers of loose-fitting clothing. The innermost layer should be a synthetic fiber like polypropylene to wick away sweat.
The second layer should be of wool or a synthetic material that can retain warmth. The outer layer should be nylon material that protects against the wind and rain but provides ventilation to prevent overheating.
Avoid tight clothing, as this cuts off circulation and prevents blood from reaching the extremities. Hats that cover the head and ears help the wearer retain body heat.
Insulated and waterproof gloves and boots are necessary to protect hands and feet. Wool socks should be worn over polyurethane socks to keep sweat from getting trapped in them.
Advise your employees to bring an extra set of clothes in case they get wet and need to change.
Mixing or applying pesticides
The amount of personal protective equipment needed to be worn will be listed on the label of whatever chemical you intend to have your employees spray. Be careful to note that these labels are not a suggestion; the PPE listed must be worn.
Signal words will indicate the level of toxicity from highest, with the signal word DANGER; to moderate, with WARNING; and low, which will read CAUTION.
When handling pesticide concentrate or any chemical labeled 'Danger' or 'Warning,' unlined, elbow length chemical-resistant gloves should be worn. Tuck the gloves in to shirt sleeve or vice versa to prevent the chemicals from getting inside the glove at the cuff.
Never use leather or cotton gloves as these will absorb the pesticide. Chemical-resistant boots should also be worn. Leather boots should not be worn.
Long pants and long-sleeved shirts are suitable for pesticides with the signal word 'Caution,' but 'Danger' chemicals should prompt the use of a clean, dry protective suit.
Only NIOSH-approved respirators and eye protection should be worn as instructed on the pesticide label.