Distributor of Chinese-made equipment has also signed on Paladin and Berco to its e-commerce site
Describing itself as "an American company offering construction equipment buyers a revolutionary and safe way" to buy Chinese equipment, IronDirect is launching its online commerce site today, offering products that it says can save owners up to 50 percent of the cost of premium machines over the first life of the machine.
Sound familiar?
IronDirect has its roots in International Construction Products (ICP), a start up announced with great flare during the 2014 ConExpo show as a way to market value-priced, Chinese-made machines to North American customers. ICP, under the leadership of industry veteran Tim Frank, shortly afterwards hit a fatal snag when IronPlanet pulled out of its plans to provide the online platform for ICP. ICP then sued Caterpillar, Volvo and Komatsu, minority owners of IronPlanet, for antitrust, a suit that a federal judge threw out of court this January.
All of that is a necessary backdrop to explain the current company's market proposition. This time, the start-up has capital muscle, provided by new owner Liquidity Services, a surplus assets management firm based in Washington, D.C, with current revenues of $85 million in the company's third quarter of 2016. With LS backing, IronDirect has a revamped demonstration area, a 450,000-square-foot parts warehouse, and the essential breathing room to try to prove that its concept—in many ways the same as ICP's—works.
Reveal
In July, IronDirect invited construction editors to Asheville, North Carolina, to both kick the iron and delve into what the company proposes to deliver to the construction equipment market.
The surroundings were familiar to many of us; this was the former Volvo Construction Equipment proving ground, left vacant in 2011 when Volvo CE moved their North American headquarters from Asheville to Shippensburg, Pennsylvania.
Two months before inviting the press, IronDirect says it hosted representatives of several major companies, with $9.8 billion in machine assets, in the same spot. "We went after the largest and most demanding customers," says Frank, now president of IronDirect. Although not revealing number of units or customers, during the press event Frank said the company was "selling to key accounts right now."
At the meeting, IronDirect pitched its approach: buy equipment online, have it serviced how you want and by whom you want, and then use Liquidity Services resources to resell it. "We're focused on unlocking the value in lower-cost machines," Frank says.
Buy online
IronDirect's fixed-price online site, irondirect.com, debuts today. The company is offering Lonking excavators and wheel loaders, and Shantui dozers, along with equipment from other manufacturers (more on that a bit further down). IronDirect says the site will be built around an Amazon-like structure, and offer walkaround videos, multiple pictures, spec sheets, parts, financial services, etc.
Payments for e-commerce customers are made via wire transfer at time of order; financing through Wells Fargo is also available. IronDirect will pay for the cost of shipping from the contiguous U.S. port of entry, or from the IronDirect stocking yard. If the machine is in stock, delivery is expected to take about two weeks. The company anticipates smaller firms will use their e-commerce site, while larger companies will use the company's direct sales force.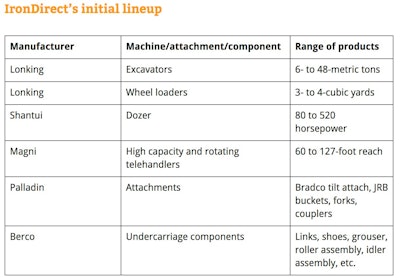 Fine, but what about what you're buying?
For the most part, we're talking about basic, Tier 3 machines, at least through this year. The Chinese manufacturers now involved in IronDirect have enough manufacturing credits with the EPA that they won't have to start selling Tier 4 Final machines until 2017 or later. They'll also have components — such as Cummins and Yanmar engines along with Kawasaki hydraulic pumps — that are well known in this market.
IronDirect says its Chinese-built machines are designed to meet or exceed the durability and reliability of competitive machines. They've been made specifically for the North American market, and include telematics, sealed cabs, cab filters and engine precleaners. On excavators, the control pattern switch valve was added, a feature important to North American operators, but little used elsewhere. The company's test and audit program includes multiple stages of inspections, and it issues what it's calling a "birth certificate," detailing inspection points and specs.
Since dealers are involved only in the service end of IronDirect, the company will use online demonstrations to help drive sales. "With streaming technology, we can answer specific questions in real time, and zoom in on features under discussion," Frank says.
While most of the savings is on the front end, IronDirect says their value proposition is for the machine's entire life cycle. To illustrate their claim of up to 50 percent savings over premium priced machines, IronDirect offers the following calculation: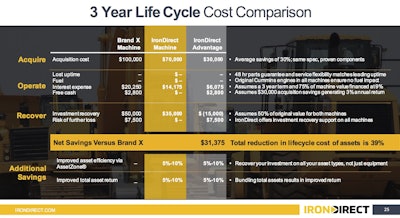 Support
Responsive parts and service has been a sticking point for many of the Chinese brands trying to establish a foothold in North America. To answer this, IronDirect is using the "Service Your Way" model established at ICP. Customers can choose between three options:
Self-service, a feature IronDirect says tends to appeal to larger fleets, in which qualifying customers can perform warranty repairs at their own facilities, getting reimbursed for labor and parts. This enables certain users to turn this cost into a profit center, Frank says, and gives them the right to repair, which is becoming a talking point among fleets, some of whom contend that OEMs are controlling software and sensor technology so they can sell more service work. "The market wants to have a choice, and we give them that choice," Frank says.
Selecting a preferred pre-authorized local dealer, which will in turn receive from IronDirect what's needed to service the equipment.
Using one of IronDirect's authorized service partners throughout the United States, Canada and Mexico.
"I think the Service Your Way particularly resonates with the larger fleets we're talking to," says Andy Clevenger, vice president of operations. "This gives them the ability to work on their own equipment without having to wait for the service truck."
Tech assists
IronDirect is putting an emphasis on service through technology, according to Frank: "We're a tech company that's built around equipment." Each IronDirect earthmoving machine has several QR codes. Scan the code using IronDirect's DirectAssist app, and you can gain access to the machine's birth certificate (including all component model and serial numbers), the original quality assurance report for that specific machine, key specs and a machine walk-around daily service video.
Available for both iOS and Android devices, the DirectAssist app connects machine operators to IronDirect's technical service, parts specialists and engineers to communicate one-on-one in real time to receive remote service assistance and information via voice, video and text chat. Users can also share photos, videos and documents such as hydraulic schematics, wiring diagrams and service manuals. Techs can talk to techs in other companies. IronDirect will also use the "Bullhorn" feature of the app to broadcast product or service announcements. "It's like you have a tech in your back pocket," is how Frank describes it. "We also see this connecting technicians and power users in a real time forum."
Each IronDirect earthmoving machine comes with DirecTrac, the company's telematics system, which is, as is fairly typical throughout the industry, free for the first three years of ownership. In addition to monitoring and reporting on the usual machine data, the system offers real time connection to the IronDirect's technical support and parts depot.
The company is offering a free kit of maintenance parts (engine and hydraulic filters) for 1,000 hours, and a 48-hour parts guarantee: If the machine is down and the parts aren't received in that time frame, IronDirect will reimburse owners the cost of renting a comparable machine until the parts are delivered. "We'll also take parts orders up until 5:30 pm EST, and ship it out that same night," Frank says. "We've made a large investment in parts. We're a logistics organization that knows how to move parts."
Resale
While ICP's main thrust was to get Chinese-made machines to market and offer after-sales support, the IronDirect proposition goes deeper, and addresses another possible buyer objection: resale value. This is one of the many ways that parent Liquidity Services comes in.
"Liquidity Services handles hundreds of millions worth of large capital assets," Frank says. "They have 53 locations around the world on six continents. They have the assets to help us grow." They also have a built-in audience, essential to any e-commerce venture.
Each IronDirect machine owner gets an Iron Edge membership, which gives discounted commission rates on machines sold through Liquidity Services global buyer base of more than 3 million registered buyers in multiple platforms. The company claims that using Iron Edge can increase a member's net recovery by up to 14 percent. IronDirect also says it will take trade-ins.
Additional manufacturers drawn to e-commerce
IronDirect is positioning itself as a way to solve distribution problems not only for Chinese construction equipment makers but also for smaller companies that often struggle to get the attention of dealers. "A lot of what they bring is on the e-commerce side," says Margaret Hendrix, global account manager with Paladin, which is offering the majority of its line of attachments, including Bradco and JRB, on IronDirect.
Other early IronDirect signees are telehandler maker Magni and Italian undercarriage manufacturer Berco. "I think they've thought this through very well, and it will be successful if they follow their plan," says Mauricio de Lara with Berco. "It's going to be a new way to buy machines."
Within the next few weeks, IronDirect will start offering a Case IH Steiger 500 tractor/Miskin D-19 19-yard pull-behind scraper combination. The company has also announced intentions to bring in compact equipment, including skid steers, compactors, artics and rigid frame trucks, but offered no specific time frame.
"We're all construction industry veterans," Clevenger says, who has more than 20 years of engineering experience with companies such as Volvo Construction Equipment, John Deere, Komatsu and Sany. "This is a way to take our knowledge of the construction equipment industry – which hasn't changed in years – and doing it in a more efficient, revolutionary way."