Landscape architecture firms are reporting a decrease in billable hours and work inquiries for the third quarter of 2016, according to a survey by the American Society of Landscape Architects (ASLA).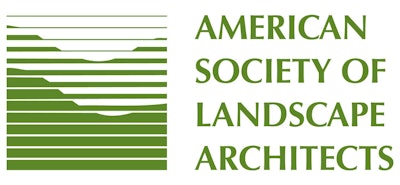 Dropping from 82.67 percent in the second quarter of this year, only 78.38 percent of respondents said they were experiencing stable to significantly higher billable hours in the July-September period.
The most recent number is lower than previous years' third quarters, with 2015 (83.4 percent), 2014 (84.18 percent) and 2013 (80.6 percent) all showing a greater percentage of firms with stable to higher billable hours. However, the response on billable hours for this year's third quarter was still far better than 2012, when the comparable number was 70.9 percent.
Inquiries for new work dropped slightly, to 80.33 percent of survey respondents, from 81.03 percent in the second quarter of this year. Again, the result was much better than 2012's number of 70.7 percent.
While in the second quarter of 2016, ASLA's survey showed 51.2 percent of firms with two or more employees had plans to hire during the following quarter, the most recent survey indicated only 47.95 percent plan to hire in the fourth quarter of 2016. This is on par with the third quarter of 2014 (48.06 percent) and 2015 (48 percent).
Around 83.33 percent of companies with 50 to 99 employees said they planned to hire either an experienced landscape architect or an entry-level landscape architect.
The survey also looked into how landscape architecture firms choose to use social media. ASLA's research showed 70.67 percent of firms with two or more employees indicated that they use social media platforms to support corporate business strategies – a marked increase from the 52.7 percent in 2013.
A smaller percentage of respondents to the third-quarter 2016 survey – 56.67 percent – say they now feel that social media has the potential to enhance all aspects of their business, from branding to marketing. The comparable number in 2013 was 52.3 percent.
The third-quarter 2016 survey indicated that fewer firms, 48.98 percent, use social media to analyze new business, risks to business activities or measure practice performance than in 2013, when 55.8 percent said they did so.
Among sites used most often by landscape architects, LinkedIn remains at the top, with 90.37 percent of respondents saying they use the service. Facebook is the second most popular with 77.04 percent, and Twitter lags far behind at 37.78 percent. The ranks have not changed since 2013, when LinkedIn was at 84.6 percent, Facebook at 64.8 percent and Twitter at 30.8 percent.
The reasons why landscape architects use social media have shifted slightly in the past three years. The top reasons cited in the third quarter of 2016 were advertising (57.36 percent), interacting with clients (55.04 percent) and researching competitors (51.94). In 2013, the responses were interacting with clients (45.4 percent), advertising (42 percent) and researching competitors (37 percent).