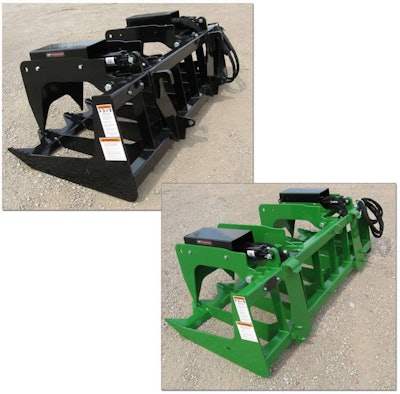 Worksaver has added two new models to its ETG-26 grapple lineup, the ETG-26G and ETG-26JD.
Both feature dual upper grapples of 3/8-inch steel that are 16.5 inches wide to help retain brush, logs, pruning and other loose debris while leaving dirt behind.
The ETG-26JD offers a John Deere 400/500-style mount. The ETG-26G features a Euro/Global mount. Both models are 6 feet wide.
Hydraulic hoses are protected with a nylon abrasion-resistant fabric sleeve and are routed through the mainframe tube.
For more details on the new grapples, visit this page on Worksaver's website.
Fisher Barton offers self-sharpening blades
Fisher Barton Blades has introduced a new line of self-sharpening lawn mower blades: LaserEdge with "EverSharp" technology.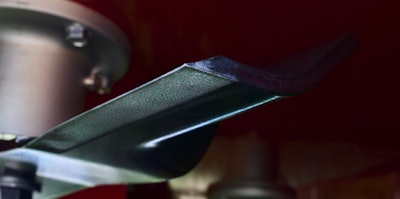 The company says LaserEdge is the first mower blade of its kind. According to Fisher Barton, the hardened steel blade sharpens itself while in use and never needs sharpening.
"Fisher Barton has consistently been focused on bringing innovative solutions to our customers and this is the most significant innovation to lawnmower blades since Fisher Barton's introduction of Marbain (blades)," said Andy Strupp, vice president of sales and marketing.
Strupp said the new blade will eliminate both downtime and quality problems caused by dull mower blades.
Dump body now includes fold-down side option
Switch-N-Go announced that an optional, lightweight aluminum fold-down side is now available with its dump body. The fold-down sides allow for easy entry into the dump body for side loading and unloading.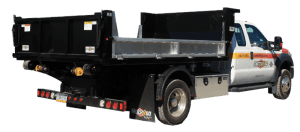 Switch-N-Go dump bodies are available in six standard lengths, from 9 to 14 feet, as well as two classes, standard and heavy-duty.
Switch-N-Go dump bodies come with a powder coated finish that is reinforced by a triple stage wash designed to ensure proper curing and rust resistance.
Dump bodies come standard with features like two-way dump gates and variable height bulkheads. Options include heavy-duty tailgates, contractor (fold-down) sides, extended board pockets, cab shields and tool boxes.
Also, the patented barn door dump gate, available exclusively from Switch-N-Go, makes the dump body even more versatile, the company says.
Iron Cross truck-side steps lauded at SEMA
This is one for the "Why didn't I think of that?" file.
Most truck-side steps usually run the entire length of the cab. Iron Cross opted to break the mold and create two separate steps instead.
SEMA thought it was a good idea and awarded the Oklahoma company with the Best New Off-Road/4-wheel-drive Product award this week at the Las Vegas Convention Center.
"It's an aggressive design unique to the market place," said Tony Harper, head of sales and operations at Iron Cross.
Made of 14-guage powder-coated steel in a matte finish, the Iron Cross Step will be available Jan. 1 for pickups and Jeeps. The steps feature an angled design that complements the design of the company's popular bumpers.
Look for it soon on the company's website. Located in Tulsa, Oklahoma, Iron Cross has been in the aftermarket parts business for 30 years.
EDITOR'S NOTE: The staff of Hard Working Trucks, a sister publication, contributed to this report.