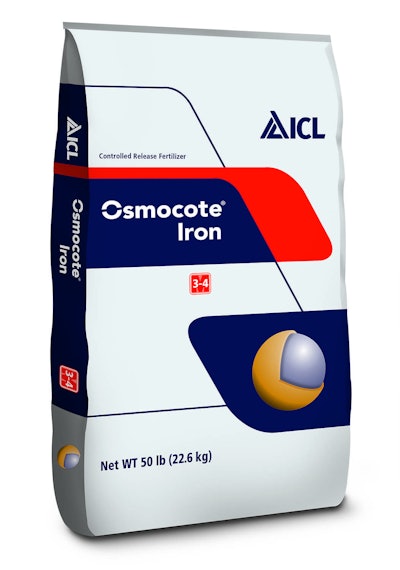 ICL Specialty Fertilizers has introduced a new controlled release fertilizer designed to provide additional iron and sulfur, Osmocote Iron.
Osmocote has been used by landscaping professionals for years, according to ICL, but Osmocote Iron is a new fertilizer that is designed to increase the nutrient efficiency of plants that are lacking iron.
It is Ferric-sulfate coated with ICL's E-Max Release Technology, which the company says is a proprietary coating that delivers a steady supply of iron and sulfur in a reliable manner.
"Osmocote Iron maximizes nutrient efficiency for plants that are iron deficient for a variety of reasons, including high iron demand, high root zone pH levels or highly alkaline irrigation water," said Kurt Brace, ICL's ornamental horticulture marketing manager for the Americas. "Simply by topdressing or mixing Osmocote Iron into growing media, you can supply these plants with the iron they need for three to four months."
Iron can help foliage appear greener, while plants lacking sulfur can appear yellow and stunted. Osmocote Iron is a granular solution that can provide iron and sulfur to greenhouse plants, nursery stock, landscape beds and turf.
According to ICL Specialty Fertilizers, liquid iron can be used to deliver additional iron, but it must be applied frequently to be effective.
"Using Osmocote Iron allows for continuous iron release in plant root zones, allowing absorption of iron throughout the growth cycle," Brace said. "Because it lasts for three to four months, growers, groundskeepers and lawn-care professionals don't have to reapply as often. That saves them time, labor and, ultimately, money."
ICL Specialty Fertilizers is a business unit of ICL Fertilizers, which is based in Israel and has U.S. operations in St. Louis.