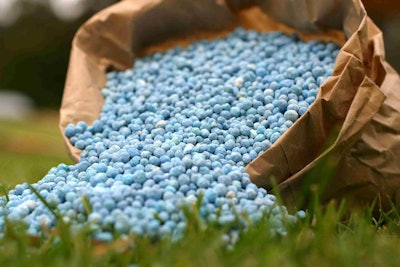 In the day to day work of landscaping, some things, such as what type of fertilizer to buy, simply become habits. Koch Turf & Ornamental has made it its mission to dispel some misconceptions about fertilizer.
Bags of fertilizer with lower amounts of nutrition often come with higher amounts of filler. These bags are often cheaper, but they require a higher spread rate and the filler adds very little nutritional value.
Because the cheaper blends have a higher spread rate, landscapers must buy more bags of fertilizer and use more labor to spread it, not to mention the extra wear-and-tear on equipment.
Koch says landscape professionals are better off buying a blend of fertilizer with higher nutritional content because doing so will improve both their bottom line and their customers' turf. It will also help the environment by reducing the risk of nutrient leaching and denitrification.
In an interview last week at GIE+EXPO, Koch's agronomist, Eric Miltner, explained why it might be time for landscapers to rethink what they are actually buying in a bag of fertilizer: