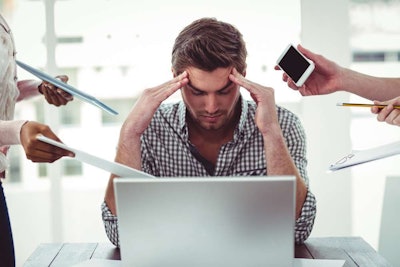 It's ironic the holidays that promote being thankful and grateful for each day are also when things seem the most hectic and unappreciated.
Thanksgiving is just around the corner and with it comes the circus act of maintaining a healthy work-life balance. Some experts say there is no such thing and others say no amount of advice can help a person restructure his or her life.
Both are partially right. The truth is that you have to actually want the balance before you'll ever do something about it.
If you have decided that this is something that your life needs and you'd like to be less consumed with work, here is some simple advice.
Prioritize
At the end of the day, you know what work must get done and what tasks can be saved for a rainy day or a later time. If you are having to choose between work you know can be finished later and quality time with your family, just ask yourself which one is more important?
During the day, work should be your priority. Responding in a timely manner to customers' concerns helps them know that they are a priority. However, they also have families and know you have one, too. If you really want to take the upcoming holidays off, let your regular clients know. They'll appreciate you took the time to think of them and they'll respect that you deserve some time off as well.
If you have a difficult client demanding that you come plow their driveway for the third time in a row, you have to decide which is the priority. There's nothing wrong with putting the customer first if that's what you're concerned about. It's all about what comes first in your life.
Build a trusted team
If you're the company owner, it can sometimes be hard to let go of some of the responsibility. One of the best ways to maintain a good work-life balance is hiring capable employees and then trusting them to handle the duties you give them.
Without a strong team to support you and help carry some of the administrative duties, you'll end up overworked and overwhelmed. There's nothing wrong with needing a little help, so don't be afraid to have a core group that can step in to take some work off your plate.
Even if you have some employees who aren't that experienced, a great number of them are more than capable and willing to learn. Take the time to train someone if you don't currently have anyone who you feel could pick up the slack.
Just say 'no'
This ties in with the first two pieces of advice. If you don't have the staff to take time off yourself, you're going to have to go back to your list of priorities.
For some, working during the holidays isn't a problem. The customer is king and for some landscapers, work is life. If that is what makes you happy and that is your priority, there is nothing wrong with this.
Likewise, if time with family to observe holiday traditions is a meaningful part of your life, you might have to turn down certain clients' requests or put them on hold for a few days.
Sometimes the giving season can stretch you thin, especially if you are involved in as many charitable activities as possible. Yet, you must remember your limits and know what you really have the time and resources to commit to. It is better to say no than to make a promise you cannot keep.
Sleep
You may think you can sleep when you're dead, but getting quality rest is more important during this stressful time. You won't be as productive at work or as pleasant to be around in your personal life if you're sleep deprived.
"Prioritize sleep, even if it means leaving the festivities early," Elizabeth R. Lombardo, author of Better than Perfect, told U.S. News. "Sleep deprivation will only increase your physical and psychological stress."
Chronic sleep deprivation increases your risk for type 2 diabetes, cardiovascular disease, obesity and depression.
Enjoy the little things
Sometimes in the hustle and bustle, you can find yourself wishing the holidays away, but it is important to remember you don't have to wait for Thanksgiving to reflect on what you should appreciate.
Enjoy the little things. Not everyone works in an industry that allows to you to enjoy the outdoors and give back to the environment. Being able to create beautiful green spaces is definitely something to be thankful for.