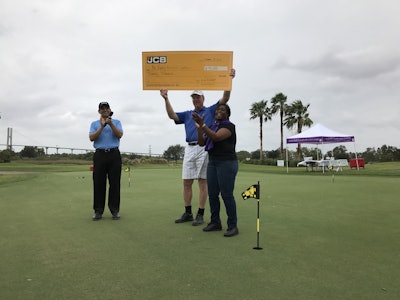 JCB, the world's largest privately held heavy equipment manufacturer, recently played host to its 10th annual golf tournament, which raised over $90,000 to support the Lady Bamford Center.
"Supporting nonprofit organizations and giving back to the communities where we work and live has always been of utmost importance to JCB," said Arjun Mirdha, president and CEO of JCB North America. "We're very passionate about the early childhood development program at the Lady Bamford Center, and we look forward to this fundraising event every year."
Established in 2007 by Lady Carole Bamford, wife of JCB owner Lord Anthony Bamford, the Lady Bamford Center is a partnership between JCB, the city of Savannah, Wesley Community Centers and the United Way of the Coastal Empire. The center provides care, education and social skills development to 83 local children from 6 weeks to 4 years of age, with a waiting list of more than 100 children.
Located in West Savannah, the center offers priority admission to children from homeless and low-income families, as well as children with physical, mental or emotional challenges. Its interactive curriculum prepares young children for kindergarten and elementary school to help them compete academically with other children.
The Lady Bamford Center is accredited by the National Association for the Education of Young Children (NAEYC), a credential earned by fewer than 8 percent of all early childhood centers in the United States.
In addition to the golf tournament, JCB hosts an annual MudFest fundraising event each June that also benefits the Lady Bamford Center. Together, the events raise about $200,000 a year to support the mission of the center.
Heads Up Landscape nominated for ethics award
Heads Up Landscape Contractors, with locations in Albuquerque and Santa Fe, New Mexico, has been nominated for an Ethics in Business Award by Samaritan Counseling Center of New Mexico. Heads Up was nominated for the Jack & Donna Rust Award for Excellence in Ethical Business Practice by a For-Profit Business.
Award recipients will be announced in January 2017 and honored at the 18th Annual Ethics in Business Award Celebration on April 26, 2017 at Hotel Albuquerque.
"The over 300 men and women of Heads Up have worked hard for over 40 years to earn the trust of the Albuquerque and Santa Fe community we serve, so it's truly an honor to be recognized among so many other distinguished businesses," says Eddie Padilla, Heads Up's executive vice president. "Samaritan is a role model organization for their own efforts to promote ethical behavior. We're proud to be nominated."
Samaritan created the Ethics in Business Awards in 2000 "for three reasons," said Sarah Lee, president and CEO of the organization. "We sought to foster a climate of ethical integrity in New Mexico, in order [to] heighten awareness of the Samaritan Counseling Center and its role in promoting ethical behavior, and to raise funds that allow us to fulfill our mission of helping people in central New Mexico find wholeness and healing through professional counseling and education."
An independent volunteer screening committee evaluates all nominations received to establish the final nominees.
Heads Up Landscape Contractors was founded in 1973 by Gary Mallory as a two-man residential lawn sprinkler service. Forty-three years later, Heads Up designs, installs and maintains commercial and residential landscapes, and leads the xeriscape industry as one of the top 100 landscaping companies in the country.
Toro reaffirms support for landscape organizations
The Toro Co. is continuing its support of key landscape contractor trade associations, including the National Association of Landscape Professionals (NALP) and the National Hispanic Landscape Alliance (NHLA), through funding, industry expertise and volunteering.
NALP is the voice of more than 100,000 landscape industry professionals who are dedicated to creating and maintaining healthy green spaces. The organization delivers a number of benefits to its members, including education on best practices and business processes for landscapers, advocacy for the landscaping industry through the political action committee, NALP-PAC, and helping to establish baseline standards of professionalism in the industry.
Toro supports the NALP with multiple events throughout the year, such as Renewal & Remembrance at the Arlington National Cemetery and the National Collegiate Landscape Competition, and also provides a discount on Toro equipment to NALP members.
The NHLA also supports the green industry through advocacy, education and training, and focuses on Hispanic Americans working in the industry. The organization's work includes providing the right tools to its members to become better-engaged leaders and more effective advocates. Toro provides monetary support to the NHLA, as well an equipment discount to NHLA members.
"We believe supporting these trade organizations is important in continually raising the bar for the green industry," said Chris Hannan, Toro senior marketing manager. "The NALP and NHLA provide many benefits to their members and the green industry as a whole, and Toro is proud to be their partner."